« previous post | next post »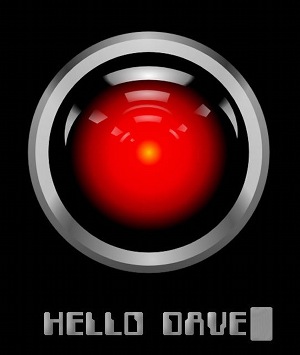 If you're a native speaker of English, and you have about an hour to spare, and the title of this post (or a small promised gift) convinces you to devote your spare hour to helping researchers improve automatic speech recognition, just pick one of these four links at random and follow the instructions: 1, 2, 3, 4.
[Update — the problem with the tests has been fixed — but more than 1,000 people have participated, and the server is saturated, so unless you've already started the experiment, please hold off for now!]
If you'd like a fuller explanation, read on.

It's often been observed that when computers perform "intelligent" tasks, their error patterns are different from those of humans, even if their performance is as good or better. An interesting example came up on last night's Jeopardy! show, where Watson walloped its human adversaries, but seemed to miss an elementary geographic fact by answering "Toronto" to a question in the category "U.S. Cities" ("Watson Dominates 'Jeopardy' but Stumbles Over Geography", NYT Arts Beat 11/15/2011).
The most straightforward way to improve the the performance of an AI system is to give it more training data. But systematic error analysis can also be helpful, trying to identify those areas where algorithmic or training changes would make the most difference. And one obvious target is precisely this class of obvious-to-humans mistakes.
When a system isn't very good, it's easy to get data for error analysis, since nearly all differences between human and machine judgment will be system errors. But as system performance improves, it starts to get hard to distinguish mistakes from disagreements, especially for tasks where human judgments are variable. One area where this problem has arisen, believe it or not, is automatic speech recognition (ASR).
There are two facts about speech recognition that are not widely understood.
First, jokes to the contrary, ASR systems have gotten to be pretty good at it.  For speaker-adapted English dictation applications, word error rates in the range of 5% are now common; and for constrained tasks, like digit-string recognition, word error rates are a small fraction of a percent.
Second, humans are often surprisingly bad at it. Specifically, in general transcription tasks, the typical "word error rate" for a comparison of two human transcripts is likely to be the range of 1-10%, depending on audio quality, difficulty and familiarity of material, definition of "error", and amount of transcriber training. (If the humans are journalists, alas, 40-60% word error rate is fairly common…)
This is not to say that ASR is a solved problem. ASR performance degrades rapidly with noisy or distorted input. Even on high-quality input, ASR performance on tasks that can't rely on contextual redundancies (e.g. random word sequences, or nonsense/unknown words, or topic areas far outside the training set) remains significantly worse than human performance. The performance of systems for English and other major languages depends on statistical analysis of billions of words of text and thousands of hours of transcribed speech, resources that are not available for most of the world's languages.
And even when ASR word error rate is similar to human inter-transcriber differences in percentage terms, the patterns of machine and human disagreements are often quite different. But in order to use a comparison of those patterns in error analysis, researchers need a large enough sample of human transcripts — that's where you (may) come in!
The request for people to participate in this task comes from Ioana Vasilescu, a friend at LIMSI ("Laboratoire d'Informatique pour la Mécanique et les Sciences de l'Ingénieur"), a CNRS laboratory in Orsay, near Paris. The speech group at LIMSI is one of the best in the world — they've been placing near the top in DARPA-sponsored speech technology evaluations for two decades.  But in the southern suburbs of Paris, recruiting native speakers of English is difficult, and so I offered to ask for volunteers on their behalf.
Ioana writes:
I'm looking for native English listeners with normal hearing, in France or abroad.  The test lasts about 45 minutes but it can be completed in several sessions: participants can connect as many times as needed to complete the test.  The payment consists in a small computer device (USB key, about 20 euros). The participant will receive it upon request (by sending an email with the address) at the end of the test.
I'll post a discussion of the paper that results from this research, when it's done.
---
[A further comment on Watson's geographical blooper…  It can often be hard to assign blame among the many components of a complex system.  The general nature of the flaw seems clear in the case of the "Toronto" flub — Watson doubtless knows a great deal about where Toronto is, but somehow failed to restrict its answer according to the wording of the question category.  However, given that Watson's developers have analyzed its responses — especially the wrong ones — to hundreds of thousands of past Jeopardy! clues, this could not have been something as simple as systematically failing to take the question category into account.  It seems more likely to have been a matter of inappropriate weighting of different constraints on the answer;  maybe we'll learn something more about what happened in this case from Watson's developers.]
---