« previous post | next post »
From Jenny Chu, on November 9:
I am a long-time follower of Language Log but usually comment on the Chinese and Vietnamese related topics by Prof. Mair. Yet I thought you might be amused by the attached conversation. It shows some nice examples of the playfulness and creativity of the human language faculty, as well as some nicely ironic / self-conscious prescriptivist poppycock.
The conversation starts like this: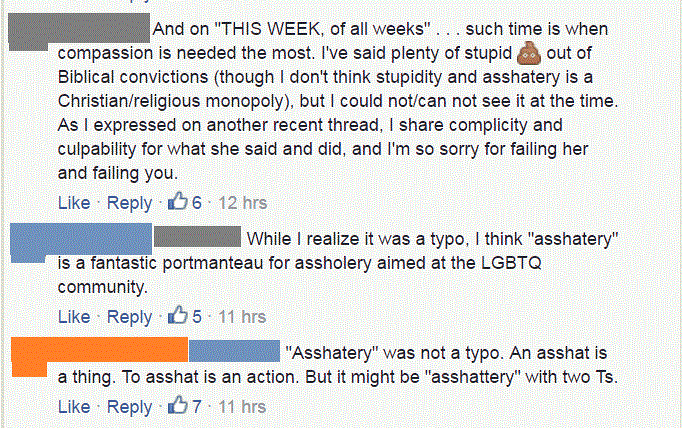 Click here to read the whole (long) thing.
Here's the relevant part of the OED's discussion of the -ery suffix, unchanged since the 1891 edition, which explains why no verbing of asshat is involved [emphasis added]:
Of the English words ending in -ery many are adoptions from French, as battery, bravery, cutlery, nunnery, treachery. Many others are formed on ns. in -er, and are properly examples of the suffix -y ; but in individual instances it is often uncertain whether a word was originally formed on an agent-noun in -er or directly on the verb. The derivatives of ns. in -er and of verbs for the most part denote the place where an employment is carried on, as bakery, brewery, fishery, pottery; occasionally they denote classes of goods, as confectionery, ironmongery, pottery; after the analogy of such words, the suffix is added to ns. with a general collective sense (= '-ware', '-stuff', or the like) as in crockery, machinery, scenery. The words formed by adding -ery to ns. sometimes (though rarely) signify a state or condition, as slavery; oftener the force of the suffix is 'that which is characteristic of, all that is connected with', in most cases with contemptuous implication, as in knavery, monkery, popery; another frequent use is to denote the place where certain animals are kept or certain plants cultivated, as piggery, rookery, swannery, vinery. During the 19th century this suffix in pl. form was rather extensively used in the coinage of jocular nonce-words; the Fisheries Exhibition held at South Kensington in 1883 having been colloquially known as 'the Fisheries', the name 'Healtheries' was commonly given to the succeeding Health Exhibition, and the Colonial and Indian Exhibition was called 'the Colinderies'; an exhibition of bicycles and tricycles was called 'the Wheeleries'. These formations are often imitated colloquially. Cf. 'The Dukeries' (after the analogy of 'The Potteries') as a name for the tract of country occupied by the great ducal estates in Notts. and North Derbyshire.
---