« previous post | next post »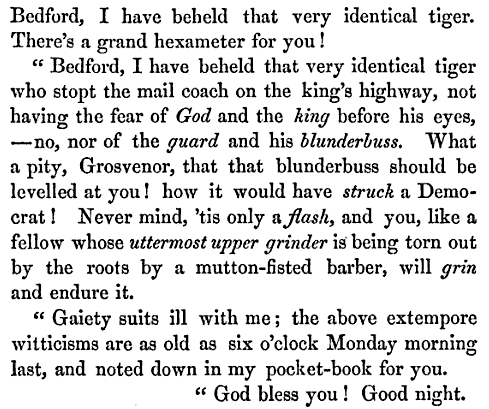 The image on the right reproduces a brief passage from a letter that Robert Southey wrote to his friend Grosvenor C. Bedford, on October 1, 1795. (Click on the image for a larger version, as usual.)
Read it, and see if you can figure out what aspect of it Richard Grant White in 1869 called the worst of "those intruders in language … which, about seventy or eighty years ago, began to affront the eye, torment the ear, and assault the common sense of the speaker of plain and idiomatic English".
Give up?
It was the progressive passive, and White responded to it just
… like a fellow whose uttermost upper grinder is being torn out by the roots …
Even in 1869, White was forced to admit that this construction "seem[s] to many persons [to be] of established respectability"; and today, it's hard for most people to grasp that there was ever a problem with it at all.
But it's true that the progressive passive first appeared in the English language in the second half of the 18th century, replacing what historians of English grammar call the passival.
All of this came up in a marvelous invited talk at the recent LSA annual meeting: Joan Maling on the topic "Nothing personal?  The emergence of a new syntactic construction in Icelandic". I'll have more to say about Joan's work on Icelandic, but I thought the English passival-to-progressive-passive evolution — and Richard Grant White's epic peeve in response — was worth a post of its own.
The relationship among the relevant set of forms can be seen in this list from Platt and Denison, "The language of the Southey-Coleridge Circle", Language Sciences 2000:

An example of the passival, in an 1807 letter from Jane Austen to her sister Cassandra:
Our garden is putting in order, by a Man who bears a remarkably good Character, has a very fine complexion & asks something less than the first.
And here's one in a passage from Northanger Abbey:
The bustle of going was not pleasant. — The clock struck ten while the trunks were carrying down, and the General had fixed to be out of Milsom-street by that hour.
And finally, for all you connoisseurs of fine whines, the full text of Richard Grant White's "Is Being Done", The Galaxy, 1869:
---