« previous post | next post »
On the fence around a construction site that I walk past every day is this sign: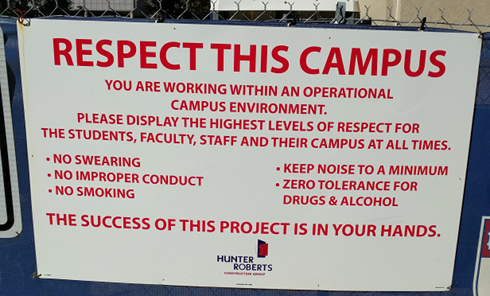 No doubt students, faculty, and staff appreciate the sentiment, though not many of us would have thought to describe a university as "an operational campus environment".
In fact that phrase puzzles me a bit. "Operational environment" seems to be a piece of U.S. military jargon, defined as "A composite of the conditions, circumstances, and influences that affect the employment of capabilities and bear on the decisions of the commander". Additional modifiers can come either before or after operational:
(link) It can be very difficult to implement a comprehensive operational security environment
(link) The IATT accreditation decision is a special case for authorizing testing in an operational information environment or with live data for a specified time period.
(link) The Relevancy of Inform and Influence Activities in the Garrison Operational Environment
Without knowing that, I would have guessed that an "operational campus environment" was a campus environment that was operational. But given the operational jargon environment, I suspect that it's really an operational environment that's on campus.
Anyhow, the construction workers are being held to a stricter standard of conduct than the students are. In 15 years as residential faculty, I've never seen a student written up for "swearing".
---