« previous post | next post »
According to my iPhone-bearing sources, iOS 10.0.2
Addresses an issue that could prevent headphone audio controls from temporarily not working
I hate it when audio controls are prevented from temporarily not working, don't you?
The obligatory screenshot: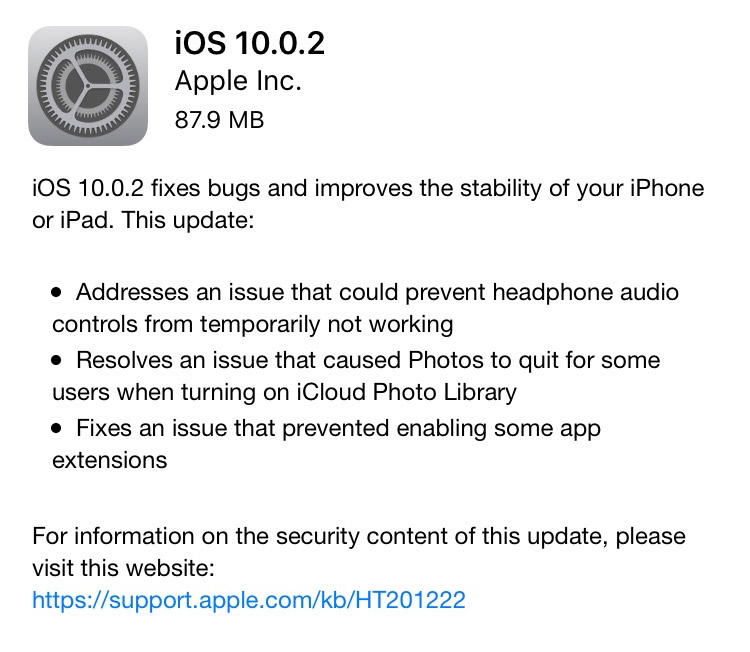 [h/t Stewart Nicol]
Update — turns out the confusing announcement may have been the result of cognitive overload caused by intense embarrassment:
Last week's launch of iOS 10 was rough for Apple. The update bricked some iPhones and iPads, plus it introduced a bug where Lightning headphones lost their playback controls, rendering the in-line remote useless.
A week later, Apple has a fix in the form of iOS 10.0.2. The headphone bug wasn't helped by Apple's decision to remove the headphone jack from the iPhone 7.
The issue also affected users who were using the Lightning-to-3.5mm adapter. Apple included a pair of Lightning EarPods with the iPhone 7 and iPhone 7 Plus, but the remote control bug frustrated users who were used to having wired headphones that just worked.
And it seems that this is not the only bizarre, thoughtless, undertested bug recently rolled out by Apple…
---