« previous post | next post »
Merriam-Webster's twitter account has been offering good usage advice, for example
It's fine to use mad to mean "angry"—even if doing so makes some people mad. https://t.co/Z5ClzvAnaZ

— Merriam-Webster (@MerriamWebster) September 7, 2016
This particular tweet led to an exchange that went viral.
First, a series of complaints about M-W failing in its parental duties: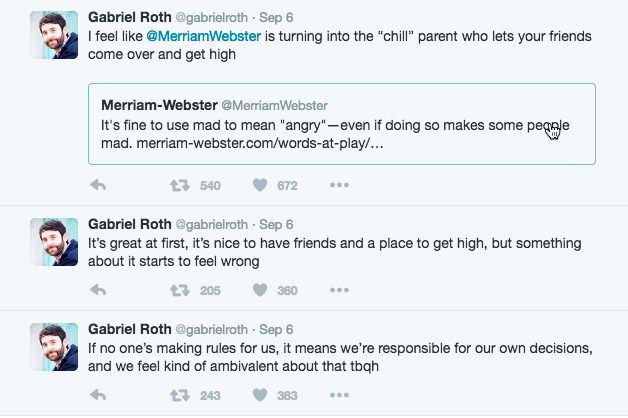 And then M-W's response: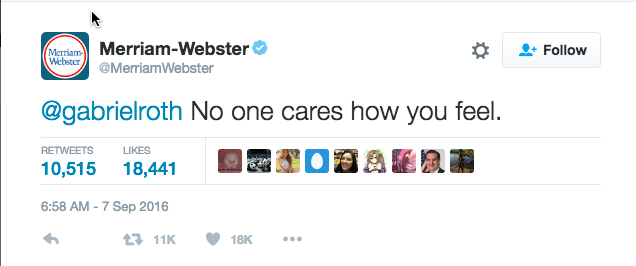 The responses to the response are almost all pro-M-W, and of course include a wide selection of mic drop, shade-throwing, and sick burn memes. One example among many:
@_teitokuma @MerriamWebster @gabrielroth Usually it's people that burn books not the other way around. Paper cut to the heart right there

— Cherem (@Weeabastard) September 7, 2016
Buzzfeed has it: "People Can't Get Over The Dictionary's — Yes, The Dictionary's — Savage Clapback ("This needs to go down in the dictionary as an example of ownership.") Buzzfeed's URL puns on another recent meme:
https://www.buzzfeed.com/tasneemnashrulla/dictionaries-out-for-harambe
Other reaction:
Luis Gomez, "PSA: Don't troll Merriram-Webster's Twitter account", San Diego Union-Tribune 9/7/2016
Sammy Nichols, "Don't pick a fight with Merriam-Webster on Twitter. You will lose.", Esquire 9/7/2016
Hope Schreiber, "The Dictionary Clapped Back At This Hater's Twitter Rant And It Was Epic", Elite News 9/7/2016
Update — Gabriel Roth responds: "No One Cares How I Feel, According to Merriam-Webster", Slate 9/8/2016.
---