« previous post | next post »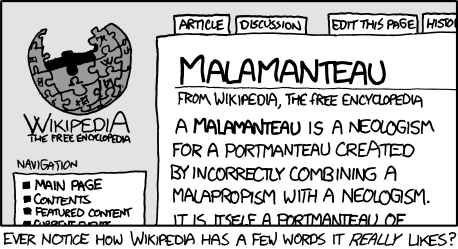 Over at the Economist's Johnson blog, R.L.G. has launched a quixotic bid to rescue malamanteau, which Randall Munroe coined as part of a joke about what R.L.G. calls Wikipedia's "over serious tone when discussing goofy topics." (The rest of Munroe's joke struck a little closer to home: the strip's mouseover title was "The article has twenty-three citations, one of which is an obscure manuscript from the 1490's and the other twenty-two are arguments on LanguageLog.")
After a suitably lengthy and serious debate, malamanteau lost the fight for an actual Wikipedia listing. But on November 4, R.L.G. found an ingenious argument for resuming the battle.
His colleague G.L. (not to be confused with L.R. or R.G.) contributed an interesting post about the history of shellacking ("I'll give you a good varnishing", Johnson blog, 11/4/2010):
SHELLAC, points out the BBC, is a processed form of an insect resin that was once used to polish furniture and make pre-vinyl gramophone records, and "shellacking" originally meant French-polishing. So how did it come to mean a drubbing, hammering, or other synonym for defeat, as used by Barack Obama yesterday to describe his party's mid-term setback?
The BBC quotes Robert Groves of the "Collins Dictionary of the English Language" suggesting that while nobody knows why "shellacking" changed its meaning, it can be compared to other (British) slang words like a "pasting" or a "plastering". But that isn't really much of an explanation. Those words describe physical acts that readily evoke a process of destruction, as do being "hammered", "creamed" or "trashed". That is, they are metaphors, and obvious ones. "A varnishing" or "a polishing" don't really cut the metaphoric mustard. […]
So, whence "shellacking"? I'm going to hazard a guess that it owes its new meaning to some kind of loose free-associative aural adaptation: it sounds like both "shelling" and "whacking", or even more loosely, it contains a satisfying rhythm of sharp-sounding consonants, and thus wound up being used in the sense of destruction because it "sounded right".
My question is, what's the name for such a word? It's not an eggcorn; those are words that are mistakenly used in place of another word that sounds about the same (eggcorn/acorn). It's not exactly in the same category as Sarah Palin's "refudiate"; that's a new word created by mixing existing ones. (And what's the name for those kinds of words, while we're at it? I'd suggest that an appropriately 21st-century term, albeit already in use in another context, is "mashup".) "Shellacking" is an existing word that—again, this is just a guess—took on a new meaning with no metaphorical or etymological basis but purely because of some dimly understood, possibly aural, association with something else. Can anyone think of similar examples? And does anyone have a name for the phenomenon?
And that last question was R.L.G.'s cue ("Eggcorn, mashup, malamanteau or other?", Johnson blog, 11/4/2010):
G.L.'s post reminded me that "malamanteau" could in fact be quite useful, if we reduced its meaning to simply "an erroneous and and unintentional portmanteau". This would cover "refudiate" and others like it. […] I hereby nominate "malamanteau" as a word meaning "an erroneous and unintentional portmanteau, eg, 'refudiate' (Palin, 2010)". But I will succeed only if norma loquendi and, eventually, Google get around to agreeing with me. […]  It's possible that this is the most meta (read: navel-gazing) post in the history of the internet, but I really think there's a gap for words like "refudiate" that needs filling, and malamanteau is so much fun to say that it deserves a life beyond xkcd. What do you think?
I'm OK with neo-malamanteau, though this still leaves us without a good term for words that shift their meaning due to sound symbolism, mouth feel, and lexical neighborhood effects.  But what I really wonder about is "the most meta post in the history of the internet".
With all respect, I doubt that R.L.G. can claim the title. I once nominated Language Hat's discussion of Aristotle's attack on the Pythagorean metaphysics of blogging ("Aristotle on Blogs", 6/2/2003). But surely scholars achieved six or eight levels of meta-commentary centuries or millennia ago: are there purely internet-internal discussions that go deeper?
[For those who are genuinely curious about the semantic journey of shellacking from bugs to beatings, take a look at David Crystal's post "On shellacking", 11/4/2010, suggested by a comment on G.L.'s Johnson post. David observes that
The original meaning of the verb 'to varnish with shellac' (a type of resin) is known from the late 19th century. Anything that had been 'shellacked' would have a nice rosy tinge. By the 1920s, in the USA, this effect had evidently been enough to motivate a slang use of the word meaning 'drunk'. Rosey, illuminated, and plastered show similar developments – all early 20th-century slang.
At the same time, drunks were also being described using such words as busted, bombed, crashed, and thrashed. So it's not surprising to see these words sharing their associations. The connotations of thrashing transferred to shellac, which then developed its later slang sense of 'badly beaten'.
One possible problem with this theory is that it's not really clear that the "intoxication" meaning for shellacking developed before the "bad beating" meaning did. The OED's earliest citation for sense 2(b) of shellac(ked), "U.S. slang, intoxicated, 'plastered'", is from 1922:
1922 Dialect Notes V. 148 Shellacked, stewed, bunned, etc. 1935 J. T. FARRELL Judgment Day I. iv. 85 You know, when I first found out about how you'd get shellacked, I thought it was pretty terrible. 1948 H. L. MENCKEN Amer. Lang. Suppl. II. 644 When a novelty is obvious it seldom lasts very long, e.g., shellacked for drunk.
The earliest citation given for the OED's sense 2. of shellac "slang. To beat, thrash, punish." is from 1930:
1930 C. F. COE Gunman iv. 53 These two bums that Lefty shellacked were members of Red Karfola's gang. 1935 J. HARGAN Gloss. Prison Lang. 7 Shellack, to punish or beat. 1977 Time 8 Aug. 28/2 Pitcher McArdle was shellacked for..six runs in the first inning.
And for shellacking sense 2., "A beating or thrashing, a 'pasting'; a defeat. slang" the OED's first citation is 1931:
1931 E. H. LAVINE Third Degree x. 121 When this method failed, as it invariably did, he would leave the room and the shellacking continued. 1941 Sun (Baltimore) 18 Sept. 13/1 The main bulk of the Twenty-ninth Division handed the One Hundred and Fifteenth Regimental Combat Team a shellacking on the combat range today.
But a quick search turns up Johnny Dundee, "My Hardest Fight", L.A. Times 3/1/1925, where shellacking is used in a casual turn of phrase that suggests it was by no means a novel word at that time: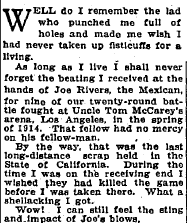 This suggests that both figurative senses developed at some point before 1920, in an order and relationship that may not be documented in print. But in the cases where we know the direction, it seems that the the semantic transfer is generally from violence to intoxication rather than in the other direction — consider also wasted, wrecked, clobbered. Are there any examples of words originally meaning "drunk" or "high" that have come to be used to refer to getting beaten up?]
---