« previous post | next post »
From alice-is-thinking on tumblr, three weeks ago, forwarded by a 20-year-old correspondent:
The accompanying note:
this seems to be a rly common phenomenon among millennials who are especially active on social media – myself included
It's been picked up for example by Gretchen McCulloch at All Things Linguistic, who is writing a book about internet language, and by many others.
Some relevant earlier LLOG posts include "It's true", 7/18/2012, featuring this xkcd strip which seems to correspond to Alice 10 years ago: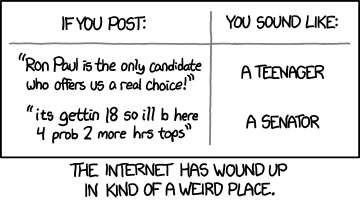 And on a more specific way that "things like lack of punctuation … have their own connotations and communicate far more than their commonly accepted meaning":
"The new semiotics of punctuation", 11/7/2012
"Aggressive periods and the popularity of linguistics", 11/26/2013
"Generational punctuation differences again", 8/1/2014
This is not just a generational thing — or just a fact about new media. Thus the whole Hillary-Clinton-*sigh* foofaraw seems to be a case where many commentators — starting with Eric Garland's article in The Hill — are interpreting a semiotic subculture from the outside, and therefore completely misinterpreting what they see and hear.
Also, in traditional terms we'd probably say that "language has evolved" rather than that "linguistics has evolved" — but I'd be happy to see linguistics take on the broader sense implicit in what Alice wrote. And linguistics in the traditional sense definitely needs to pay more attention to this kind of heteroglossia.
---