« previous post | next post »
Bruce Rusk thought Language Log readers might be interested in a bit of digraphia from Vancouver: an "escape room" company (on this phenomenon, see here), with several locations in Vancouver and its environs, uses the Sinograph chū 出 ("go out / forth; exit") in place of the letter E in its name, "出XIT" (where it looks like a doubled, rotated E). The logo looks like this: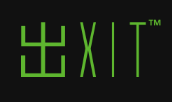 You can see their website here, and you can see more of the signage in photos of their locations.
Bruce says that he doesn't know whether their intended market is partly/largely Chinese-literate, and how that might affect how customers interpret this logo.
---