« previous post | next post »
"Figures reveal ethnic variations in prevalence of alcohol-related diseases", The Scotsman 5/9/2016 [emphasis added]:
Irish people living in Scotland are more than twice as likely to end up in hospital or die from alcohol-related diseases as white Scottish people, research has found.
The risk for women from a mixed ethnic background is almost 100 times that of white Scots, scientists concluded. […]
Compared to the white Scottish population, women of mixed ethnicity are 99% more likely to to [sic] require hospital stays or die from alcohol-related disease.
This is enough to warn us that we're dealing with a hard-to-believe level of numerical illiteracy. Apparently the writer interpreted "99% more" as meaning "almost 100 times" more — and no editor caught it, either at The Scotsman or at any of the other papers that reprinted the story.
The optimistic interpretation here is that the writer knows what "100 times" means, and also knows what "100 percent" means, and that the substitution of "times" for "percent" in the second sentence of the article was just a Fay-Cutler malapropism. But the fact that the sentence still reads that way, at least 24 hours after the story was posted, suggests that optimism might be unwarranted.
And as you should expect, looking at the original scientific paper reveals that the reporting was problematic in deeper ways.
The source is Neeraj Bhala, Genevieve Cézard, Hester J.T. Ward, Narinder Bansal, and Raj Bhopal, "Ethnic Variations in Liver- and Alcohol-Related Disease Hospitalisations and Mortality: The Scottish Health and Ethnicity Linkage Study", Alcohol and Alcoholism May 2016.
Here are a few key sample rows and columns from their Table 3, "Age-adjusted rates per 100,000 PY [Population Years] and relative risks (RR) for first ARD [Alcohol-Related Disease] hospitalisation or death for the population ≥ 20 years by sex and ethnic group":
Sex and Ethnicity
First ARD
Events
PY at risk
Poisson
Rates for
100,000
PY
Age-
SIMD- and
COB-adjusted
Poisson
Relative Risk
White Scottish
Men
47,085
11,764,486
391.7
100.0
White British
Men
2036
1,064,515
346.9
94.2
White Irish
Men
694
142,867
881.4
184.2
Men of any
Mixed Background
51
17,397
620.6
141.5
Indian Men
76
35,152
433.1
136.7
Men of
African Origin
30
17,602
360.1
83.2
White Scottish
Women
21,640
13,613,525
159.0
100.0
White British
Women
1212
1,169,381
199.7
128.2
White Irish
Women
244
165,477
289.2
154.5
→
Women of any
Mixed Background
38
21,793
347.6
199.4
Indian Women
21
31,590
128.3
93.3
Black Women
21
15,446
264.2
153.8
(The arrow pointing to "Women of Any Mixed Background" is my addition. Note that the original Table 3 gives data on 22 ethic/sex combinations, and the article contains two other tables of similar size — keep this in mind when evaluating the decision to feature "women of a mixed ethnic background" in the second sentence of the article.)
The first point to note is that rates for men are overall more than twice the rates for women — somehow the reporter managed to miss that. So the "Poisson Rate per 100,000 PY" for the featured "Women of any Mixed Background" was 347.6 — compared to 391.7 for "White Scottish Men" and 159.0 for "White Scottish Women".
This indeed yielded an "Age-adjusted Poisson Relative Risk" of 199.4 for the mixed-background women — relative to the "White Scottish Women" as the nominal standard of 100.  And a relative risk of 199.4 compared to 100 is about twice as high, NOT 100 times as high. But compared to "White Scottish Men" at 391.7 per 100,000 population-years, those mixed-background women at 347.6 were actually LESS likely to experience Alcohol-Related Disease.
So when the article says that "The risk for women from a mixed ethnic background is almost 100 times that of white Scots", it's promoting two falsehoods. One piece of idiotic nonsense is directly asserted, namely that a ratio of 1.99 to 1 is "100 times". But another falsehood is implied, by omitting the biggest effect in the study's data, namely the sex difference.
And there's a third issue. The second column in the table tells us that during the period of time surveyed (which was nine years from 2001 to 2010), the total number of cases of ARD among "Women of any Mixed Background was 38, or an average of about 4 cases per year. This compares with 47,085 cases among White Scottish Men during the same time period, and 21,640 cases among White Scottish Women. Yet the second sentence of the article is
The risk for women from a mixed ethnic background is almost 100 times that of white Scots, scientists concluded.
Amazing.
I've noted in the past that the lack of numerical concepts among the Pirahã is paralleled by the lack of statistical concepts among members of our advanced industrial societies (see e.g. "The Pirahã and us", 10/6/2007).  But I was wrong to hang this on the failure to understand an important but relatively subtle aspect of statistical analysis, namely how to compare group distributions of features.
Let's start by insisting that science writers for major publications should understand simple ratios — a ratio of 199 to 100 is about twice as great, not 100 times as great. And they should be able to evaluate large differences in counts — something that happened 38 times in 9 years (ALD among "women from a mixed ethnic background") shouldn't be featured in a context where it's being compared to something that happened almost 70,000 times during the same period of time (ALD among "white Scots"). Or, at least, you should have some reason for featuring that vanishingly rare class of events, other than sensationalism and an implicit appeal to ethnic and gender prejudice.
[h/t Eric P Smith]
Screenshot: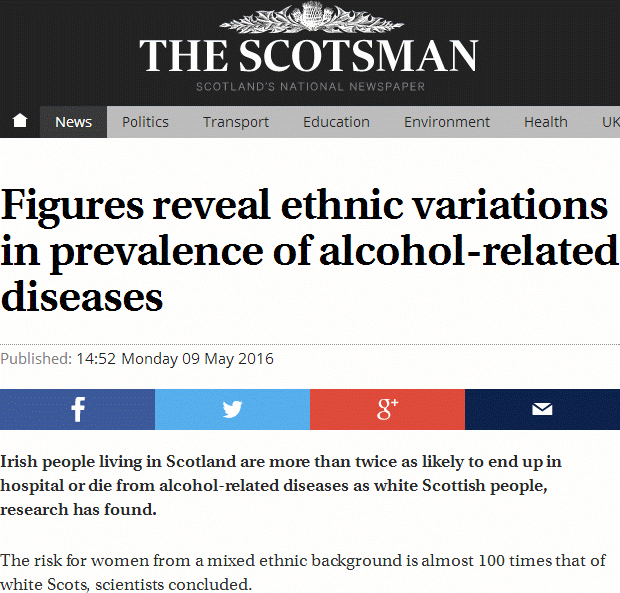 ---