« previous post | next post »
Jessica Banov, "'Bless your heart,' unfiltered, in the national spotlight", Raleigh News & Observer 3/31/2016:
The phrase is served as the "icing" of Southern politeness, a subtle way to insult someone but without coming straight out and calling someone an idiot to his or her face.
"Bless your heart," read the tweet that South Carolina Gov. Nikki Haley had just zinged at Donald Trump in response to an insult directed at her, creating a widespread reaction on Twitter.
As a linguist who revels in the nuances of language, Wolfram was thrilled with the three little words Haley used to answer the GOP presidential candidate's bluster.
"It's the perfect comeback," Wolfram, a professor at N.C. State University, immediately told his wife. "In a sense, it shut Donald Trump off. How do you respond when someone says, 'Bless your heart?' It could be a sincere thing. But it's not, of course."
Or, as Wilmington-based columnist Celia Rivenbark sized up that particular Trump Twitter feud, Haley won that round.
"Perfectly executed," Rivenbark said. "She can drop the mic and move on."
There's some discussion of the expression in this clip on Walt Wolfram's Talkin Tar Heel site.
And there are quite a few discussions on YouTube, like this set of person-in-the street interviews:
There's a video decoder key:
A tutorial:
A comedy routine:
Another comedy routine:
A song named "Bless your heart":
And another song with the punch line "I don't have to be hateful, I can just say 'Bless your heart.'."
Celia Rivenbark, "Bless Your Heart, Tramp: And Other Southern Endearments", 2006, offers this definition: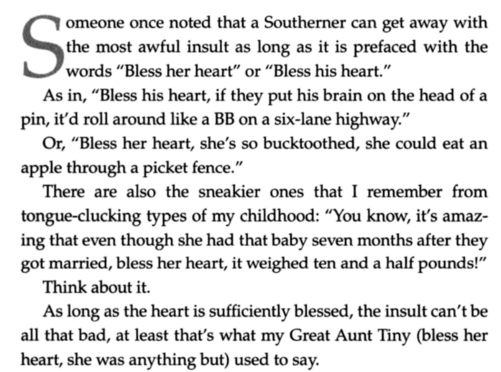 And finally, from R. Scott Brunner, "Due South: Dispatches from Down Home", 2001:

Governor Haley has clearly reached that level.
---