« previous post | next post »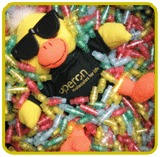 A sample of today's biospam:
Mark, get your ducks in a row with Operon…
FREE Operon Op-Animal with ANY oligo order!
Operon and MWG are joining forces to create a new global leader in the oligo market. Operon has created the world's most advanced factory for fully automated solid-phase synthesis of oligonucleotide probes and primers.
And they'll send you ugly plush animals too. Shockingly, these are apparently popular enough that people try to to merge orders so as to reach the 150€ minimum to get one.
I wonder which of my internet actions put me on this mailing list? I suspect that my mistake was subscribing to Nature and/or Science. Apparently it's not enough that they mainly publish biomedical articles, so as to appeal to the biomedical research equipment and services companies who dominate their ads; perhaps they make extra money by selling their subscriber list to the same companies?
I don't know that either of these publications is guilty, and I apologize for the suggestion if they're innocent — after all, it could be co-authoring a paper in BMC Bioinformatics, or attending some bioinformatics conference, that signed me up as a biospam target. But anyhow, this underlines the fact that at the top of the scientific-industrial food chain, there is a third funding model: not only "author pays" vs. "reader pays", but also "spammer pays". Well, to be fair, "advertiser pays". An obvious consequence is that this warps the editorial policies and the journal content in the direction of the audience that the spammers advertisers want.
And of course, in the end this is largely a form of "government pays", since much of the money for the expensive research equipment and services comes from government research grants.
Unfortunately, there are many disciplines — from sociology to mathematics — whose practitioners' grant money is rarely spent on expensive products and services offered by companies who advertise in Nature. Imagine if PCR stood for "phonological chain reaction", a method that takes a few audio clips and uses specialized and expensive equipment to produce an unlimited amount of babble. Free duck with your phonemes!
Oh wait, there is such a method — but we're unlikely to see anyone advertising "the world's most advanced factory for child language acquisition"…
---