« previous post | next post »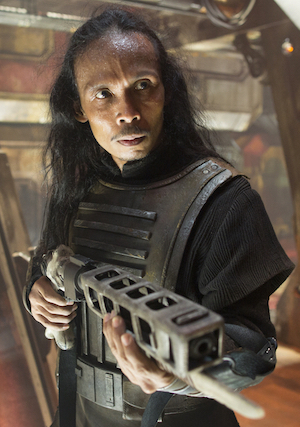 For my language column in the Wall Street Journal this week, I describe how some alien-speak in "Star Wars: The Force Awakens" ended up being created by a young Finnish YouTube sensation, tailor-made for Indonesian actors. We could call it "Finn-donesian," though the character Finn doesn't actually speak it. Rather, the dialogue was designed for the Kanjiklub gang, who briefly face off against Han Solo and Chewbacca on a space freighter packed with slithery Rathtars.
The linguistic landscape of "Star Wars" has always been a bit of a mess. We're supposed to think of the English that most characters speak as a proxy for the in-universe lingua franca – Galactic Basic Standard, to those in the know. But some characters jabber away in other exotic tongues without much rhyme or reason. Chewbacca speaks in Wookiee, presumably because his vocal tract isn't equipped to speak Basic. As a protocol droid, C-3PO is of course "fluent in over six million forms of communication," but astromech droids R2-D2 and BB-8 can only bleep away in Binary because… well, who knows, really? They just do.
I had puzzled over these questions growing up with the original "Star Wars" trilogy, and with the release of "The Force Awakens" I started thinking about them again. I eagerly followed a sprawling Twitter conversation a couple of weeks ago, initiated by Gretchen McCulloch, which began with attempts to make sense of BB-8's droidspeak and then spun out into various other linguistic conundrums.
Why, for instance, did J.J. Abrams not take advantage of the community of "conlangers" to make alien languages for "The Force Awakens"? Abrams had, after all, directed two "Star Trek" movies with dialogue from that most famous of invented languages, Klingon. And other big science-fiction releases have featured the efforts of conlangers, like the Na'vi of James Cameron's "Avatar." But as I noted in the New York Times Magazine when "Avatar" was released, alien-speak in the "Star Wars" movies has, by contrast, "never amounted to more than a sonic pastiche" – a pastiche largely assembled by sound designer Ben Burtt using bits of exotic-sounding human languages.
As the tweets flew back and forth, Laura Seaberg pointed out a recently revealed tidbit about "The Force Awakens." Rather than approaching a conlanger, Abrams had instead enlisted Sara Maria Forsberg, a Finnish 19-year-old who found YouTube fame in 2014 with her video, "What Languages Sound Like to Foreigners" (more than 16 million views and counting). In the video, Forsberg proved herself to be an adept mimic of twenty different languages, earning her international attention and an appearance on "The Ellen Show" as "The Multilingual Gibberish Girl." After her bravura performance, Lucasfilm contacted her with a hush-hush offer to work on a scene in "The Force Awakens."
While Variety broke the story of Forsberg's involvement in the film right before the film was released last month, the details were sketchy – the article didn't even specify the scene or characters for which she was asked to make "additional alien dialect," as the film credits put it. Forsberg was quoted as saying that she listened to clips of Asian languages for inspiration, so that made the scene with the Kanjiklub gang, portrayed by Indonesian action stars, the most likely candidate out of the few moments in "The Force Awakens" where alien-speak is given English subtitles.
I tracked down Forsberg, who at 21 is now in Los Angeles pursuing a pop-music career as Saara, and she confirmed that she was asked to make the dialogue for the Kanjiklubbers. (The smattering of other alien dialogue in the film may have come directly from the screenwriters. [Or from supervising sound editor Matthew Wood – see the comment below.]) Abrams had cast the Indonesian actors – Yayan Ruhian, Iko Uwais, and Cecep Arif Rahman – after seeing them in the balls-to-the-wall action movie "The Raid," directed by Gareth Evans. The dazzling fight scenes in "The Raid" employ the Indonesian martial arts style known as pencak silat.
Forsberg hails from a Swedish-speaking town in Finland known as Pietarsaari in Finnish and Jakobstad in Swedish. Along with Finnish and Swedish, she grew up speaking English (her family briefly lived in Fort Worth, Texas), and she became fascinated by the sounds of immigrant languages that she encountered working as a supermarket cashier. For the Kanjiklub gang, she was encouraged by the filmmakers to make the lines sound a bit like Indonesian, a.k.a. bahasa Indonesia, the Malay-based national language of Indonesia. She also listened to clips of Sundanese, from the actors' home region of western Java. (Sundanese Indonesians, like Swedish-speaking Finns, grow up bilingual as a matter of course.)
This was an exciting discovery for me, because my graduate research in linguistic anthropology focused on – you guessed it – Indonesian and Sundanese. I dusted off my skills in both languages when I got in touch with Yayan Ruhian, who plays Tasu Leech, the leader of the Kanjiklub gang who "refuses to speak Basic, dismissing it as a 'soft language for soft people,'" according to the Star Wars Databank. Yayan, who delivers most of the lines created by Forsberg, told me he appreciated the Indonesian sound of the made-up words, though he also detected Indian and Thai traces as well. (In the Indonesian press, he has had to tamp down rumors that he's actually speaking a dialect of Sundanese in the film.)
Only a handful of lines in Forsberg's Finn-donesian actually made it into the film, and the subtitles are no help in figuring them out. Tasu Leech is subtitled saying to Han Solo, "Wrong again, Solo. It's over for you," "Twice," and "Nowhere left to hide." But the spoken bits matching "It's over for you" and "Twice" sound very similar (Yayan transcribes it as sicikadiga madiam). Then one henchman says to the other, "Search the freighter," according to the subtitles, but we hear them exchanging a single word that sounds like kadiam.
(In the clip, you can also hear Han trying to bargain with Bala-Tik, the leader of the Guavian Death Gang, who, for reasons unknown, speaks in a Scottish accent. Not sure how that maps onto the dialects of Galactic Basic.)
For "Star Wars," this neglect of linguistic plausibility is nothing new. In the introduction to his new book The Art of Language Invention, David J. Peterson, who created Dothraki and Valyrian for HBO's "Game of Thrones," recounts being a teenager watching "Return of the Jedi." When Princess Leia is undercover posing as an Ubese bounty hunter at Jabba the Hutt's palace, she uses the same word, yotó, in several lines, even though the subtitles say different things. Is this the sort of thing only conlangers and their ilk care much about? Perhaps, but given the fascinatingly multilingual origins of Finn-donesian, it's a shame that more care wasn't taken with the final product.
---