« previous post | next post »
The internet has been working hard at providing Deborah Cameron with material for a book she might write on attitudes towards women's voices. (Background: "Un justified", 7/8/2015; "Cameron v. Wolf" 7/27/2015.)
To see what I mean, sample the tweets for  #JeopardyLaura, or read some of the old-media coverage, like "Is this woman the most annoying 'Jeopardy!' contestant ever?", Fox News 11/24/2015:
"Jeopardy!" contestant Laura Ashby is causing quite a stir on social media. The Marietta, Georgia, native isn't getting attention for her two-day winning streak but instead the tone of her voice.  
Ashby first appeared on the competition show on Nov. 6 and when she returned this week the Internet went crazy over her voice.
Several tweeters went out of their way to exemplify Cameron's observation that "This endless policing of women's language—their voices, their intonation patterns, the words they use, their syntax—is uncomfortably similar to the way our culture polices women's bodily appearance":
Everyone was so focused on #JeopardyLaura, no one noticed Disheveled Jeopardy Molly #Jeoprady pic.twitter.com/iTprsz5LA1

— Alive In Philly (@AliveInPhilly) November 25, 2015
Here are some examples of what people are reacting to:
| | | |
| --- | --- | --- |
| Your browser does not support the audio element. | Your browser does not support the audio element. | Your browser does not support the audio element. |
Some people think that this is a regional accent of some kind:
Are any of you linguists? Where is Lauruuuh's accent from? I want to know so I can never go there ever. #JeopardyLaura — Detroit Punch (@josephnovak) November 25, 2015
Others think that it's an instance of "uptalk".
But I'm pretty sure that it isn't either a regional accent or a propensity for final rises that has caught people's attention. Listening, or looking at a display of waveform, spectrogram and f0, shows that the unexpected feature is mostly the lengthening of the final unstressed syllable: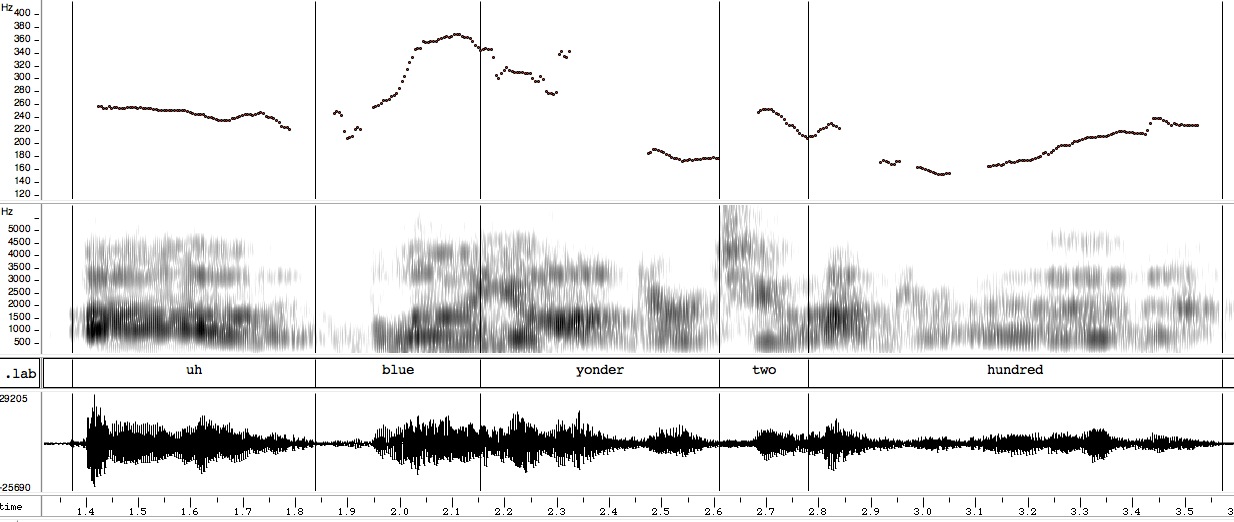 Both "blue yonder" and "two hundred" have down-stepping pitch contours with high accents on each of the stressed syllables — the final rise is due to a falling-rising pattern on "hundred", which is especially noticeable because the final syllable is longer and louder than expected. (The rise on the final unstressed syllable, following a fall from the peak on the preceding stressed syllable, is in contrast to the pattern expected for "uptalk", where the final pitch accent itself is rising.)
And frankly, I doubt that Ms. Ashby talks this way in ordinary conversation or general public speaking — it strikes me as a practiced Jeopardy-player's exaggerated ritualization of a response type  often used in certain of that game's ritual verbal exchanges.
What I find most interesting about all of this is the evidence of some weird terminological evolution. Thus Sarah Platanitis, "'Jeopardy!' two-day champ Laura Ashby's voice confuses Twitter as she pockets $36.8k", Mass Live 11/24/2015:
Ashby first appeared on the quiz show on November 6, before the Tournament of Champions began. Now that the show is back to regular episodes, viewers are expressing their opinions about the prosodic wife, mother and practicing attorney at Miller & Martin in Atlanta. The joke, however, is on them as this theatre-loving smartie pants with an odd vocal fry has an earnings tally of $36,802 so far.
So apparently "vocal fry" is coming to mean "way of talking". . .
Also, "prosodic wife, mother and practicing attorney"?
---