« previous post | next post »
Greg Corrado, "Computer, respond to this email", Google Research Blog 11/3/2015:
I get a lot of email, and I often peek at it on the go with my phone. But replying to email on mobile is a real pain, even for short replies. What if there were a system that could automatically determine if an email was answerable with a short reply, and compose a few suitable responses that I could edit or send with just a tap? […]
Some months ago, Bálint Miklós from the Gmail team asked me if such a thing might be possible. I said it sounded too much like passing the Turing Test to get our hopes up… but having collaborated before on machine learning improvements to spam detection and email categorization, we thought we'd give it a try. […]
We're actually pretty amazed at how well this works. We'll be rolling this feature out on Inbox for Android and iOS later this week, and we hope you'll try it for yourself! Tap on a Smart Reply suggestion to start editing it. If it's perfect as is, just tap send. Two-tap email on the go — just like Bálint envisioned.
A great idea, in my opinion. I'm looking forward to using Smart Reply heavily, to help me keep up with the swelling tide of incoming email. (My Gmail primary inbox is now at 32,160 and rising…)
So I've been disappointed that Inbox on my Nexus 5 still doesn't seem to offer this feature yet.
And when I ask Inbox "Help" about "Smart Reply", this is what I get: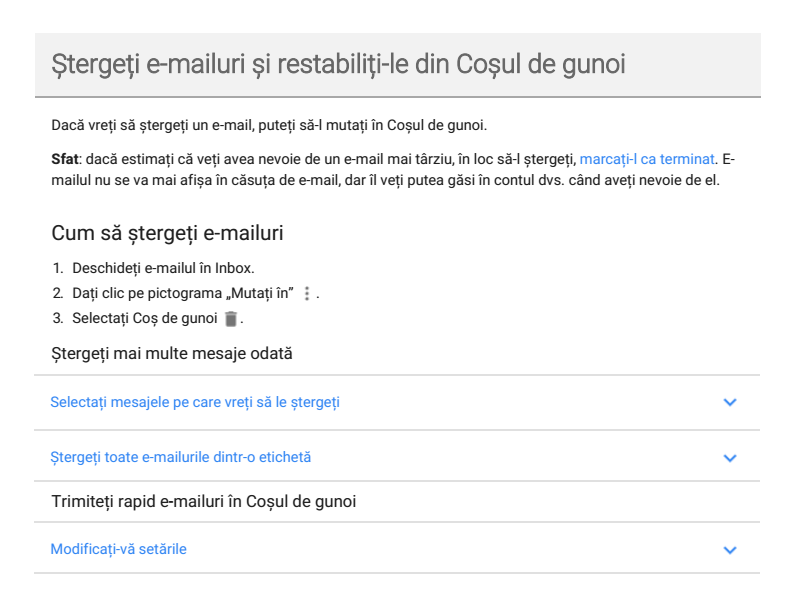 Seriously.
Actually the helpful reply goes on for another page or so of helpful Romanian instructions about how to delete emails. This may be the advice that I need, but my command of Romanian is minimal.
So I'm confident that Smart Reply is going to be at least as rich a source of jokes as machine translation and autocorrect. If you send me a message, and I respond that my hovercraft is full of eels, or something similar, don't look for deeper meanings, or assume that I've lost my mind. It's just my new long short-term memory email helper. Really it is.
---