« previous post | next post »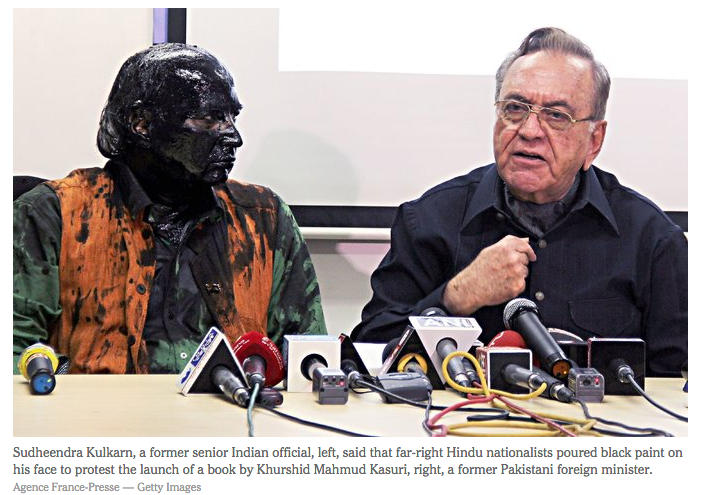 David Barstow and Suhasini Raj, "India Writers Return Awards to Protest Government Silence on Violence", NYT 10/17/2015:
On Tuesday, Mr. Modi for the first time directly addressed the Sept. 28 attack that left Mr. Ikhlaq dead. During an interview with the Bengali language newspaper Anandabazar Patrika, Mr. Modi called Mr. Ikhlaq's death "really sad," and emphasized that his Bharatiya Janata Party, or B.J.P., "never supports such incidents."
But he also accused political opponents of trying to exploit Mr. Ikhlaq's death. "The B.J.P. has always opposed pseudosecularism," he said. [say what he means by pseudosecularism?] "Opposition regularly alleges B.J.P. of igniting communal flare.[flame?] But isn't the opposition doing polarization now?"
Presumably the boldface text in square brackets represents unanswered editorial interventions.
I sympathize, having more than once been co-author of a paper or a grant proposal in which such interventions were unintentionally retained.
The obligatory screenshot: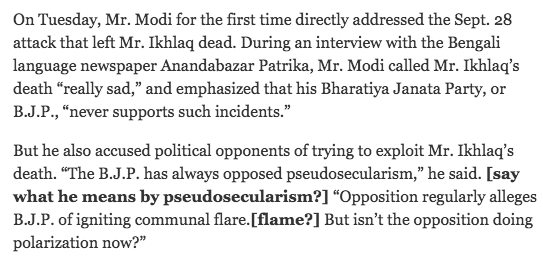 ---