« previous post | next post »
For my sins, I was recently appointed to the Linguistic Society of America's Public Relations Committee. This is a new venture for the LSA, and boy, do we have a lot to learn. This was brought home to me, yet again, when I read Sarah Kershaw's "A Viagra Alternative to Serve by Candlelight", NYT 2/9/2010:
[T]he chocolate fondue offered on the Valentine menu at MidAtlantic in Philadelphia comes with a possible secret weapon for anyone trying to put a man in an amorous frame of mind: doughnuts. But don't be too quick to load up, because according to one study, male sexual response was heightened by the scent of doughnuts only if it was combined with licorice, not exactly a standard pairing. (The only combination of fragrances the study found to be more potent is perhaps even less common: lavender and pumpkin pie.)
Intrigued, I read on, and discovered that in the cited "study",
[V]aginal and penile blood flow was measured in 31 men and women who wore masks emitting various food aromas. This was the study that found men susceptible to the scent of doughnuts mingled with licorice. For women, first place for most arousing was a tie between baby powder and the combination of Good & Plenty candy with cucumber. Coming in second was a combination of Good & Plenty and banana nut bread.
The study, conducted by the Smell and Taste Research Foundation in Chicago, also found that the aroma of cherries caused a sharp drop in excitation among women, as did the smell of meat cooked over charcoal.
(I was going to point with alarm to the apparent absence of linguistic researchers with the equipment needed to measure vaginal and penile blood flow, but this would no doubt result in a series of cruel jokes in the comments section, so let's pretend that I didn't mention it.)
Kershaw's article then walks these fascinating results back a bit, though perhaps not quickly enough to forestall a run on cucumbers and Good & Plenty at markets worldwide:
Alan R. Hirsch, who conducted the experiments, said the responses did not prove that the scent of pumpkin pie was an ingrained physiological response that would lead the average man to enjoy all the benefits of increased penile blood flow. Indeed, he suggested, the scents could have invoked potent memories for his small sample of subjects, like a Thanksgiving-weekend fling many years ago, or a bad experience with cherries.
Anyhow, a quick web search showed some other topical references to Hirsch's work, generally without any caveats, e.g. "Romantic dinner starts with alluring, sensuous cuisine", St. Louis Globe-Democrat 2/10/2010
Cinnamon, ginger and clove, the spices found in pumpkin pie spice have profound effects according Dr Alan Hirsch at the Smell and Taste Treatment and Research Foundation in Chicago, reporting men find its aroma particularly arousing. Hirsch's aroma hot button short list for women? Cucumbers and Good and Plenty Candies.
I figured that all this must be the result of a recently-published study about smell and sexual arousal. And since the LSA PR committee has recently been trying to learn to navigate the ecology of flack and hacks, I thought I'd look at this one for some additional guidance in how the game is played. However,  I couldn't find any press releases in the usual places, nor did a search of Google Scholar for the author's name and various plausible keywords turn up anything recent.
In fact, looking at the author's web page suggests that the research in question actually dates from the late 1990s: Hirsch, A.R. and Kim, J.J.: "Effects of Odor on Penile Blood Flow-A Possible Impotence Treatment," Psychosomatic Medicine 57(1), 1995; Hirsch, A.R.: "Scent and Sexual Arousal," Medical Aspects of Human Sexuality 1(3):9-12 1998; Hirsch, A.R., Gruss J., Bermele C, Zagorski D, and Schroder, M.A., "The Effects of Odors on Female Sexual Arousal" , Psychosomatic Medicine, 60:95 1998; Hirsch, A.R., and Gruss, J.J.: "Human Male Sexual Response to Olfactory Stimuli," J. Neurol. Orthop. Med. Surg. 19:14-19 1999; Hirsch A.R. "Smell and Sexual Arousal", in Frederick F.J (ed.), Encyclopedia of Food Science and Technology, 1999.
There are also some patents ("Use of odorants to treat male impotence, and article of manufacture therefor", U.S. Patent 5885614, filing date feb. 23, 1996; "Use of odorants to alter blood flow to the vagina, and article of manufacture therefor", U.S. Patent 7108872, filing date Nov 7, 2000), and a popular book, Scentsational Sex: The Secret to Using Aroma for Arousal, 1998.
Ten or fifteen years later, the nation's mass media still feature Dr. Hirsch in the run-up to Valentine's Day. Now, that's public relations!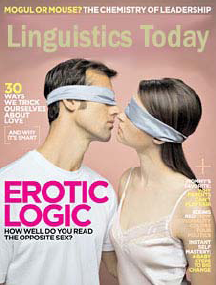 But where are the linguistic studies with titles like "Words of love: Lexicographical influences on vaginal blood flow", or "Raising to subject position: Erectile dysfunction and grammatical agency"? I bet the authors would score a couple of decades of Valentine's Day interviews, never mind the patent rights.
For an LSA talk a few years ago, I even mocked up a magazine cover — unfortunately, there's still no content to back it up.
Dr. Hirsch has something to teach us in areas other than sex. His other publications include Hirsch, A.R.: "Effect of an Ambient Odor on Slot-Machine Usage in a Las Vegas Casino", Chemical Senses 18(5) 1993; ; Hirsch, A.R. "Effects of Garlic Bread on Family Interactions", Psychosomatic Medicine, 62(1):103-104, 2000; Hirsch, A.R., Ye Y., Lu Y., Choe M., "The Effects of the Aroma of Jasmine on Bowling Score", International Journal of Essential Oil Therapeutics, 1(2): 79-82, 2007; and so on.
Deborah Tannen has the "family interaction" stuff covered. But as far as I know, Vegas and bowling are pretty much virgin territory, linguistically speaking.
[Update — since a few readers seem to be taking the smell/arousal stuff somewhat seriously, I thought I'd better follow my nose, so to speak, and check it out.
In the body of the post, I noted four apparently-relevant journal articles cited on Dr. Hirsch's web page (along with some book chapters that I'll leave to someone else to track down). Three of these citations are so obscure as to raise the question of whether they actually exist, while one of them is a short conference abstract describing some apparently-underwhelming research.
The first article (Hirsch, A.R. and Kim, J.J.: "Effects of Odor on Penile Blood Flow-A Possible Impotence Treatment," Psychosomatic Medicine, Vol. 57, No. 1, 1995, p. 83) must be wrongly cited, because there is no such article in volume 57, issue 1 of Psychosomatic Medicine, nor indeed (as far as I can determine by searching the journal's web site, PubMed, and Google Scholar) in any other issue of that or any other journal.
The second article (Hirsch, A.R.: "Scent and Sexual Arousal," Medical Aspects of Human Sexuality, Vol. 1, No. 3, June, 1998, p. 9-12) is also a puzzle. There are other online citations to a journal named "Medical Aspects of Human Sexuality", but the National Library of Medicine thinks that it ceased publication in 1992. And the title "Scent and sexual arousal" is not indexed in PubMed, and shows up on Google Scholar only in the bibliography of another of Dr. Hirsch's articles, and in one of his patents.
I'm happy to say that the third article (Hirsch, A.R., Gruss J., Bermele C, Zagorski D, and Schroder, M.A.: "The Effects of Odors on Female Sexual Arousal." Psychosomatic Medicine, Vol. 60, 1998, p. 95) does exist in a form that I can verify — it's one of the Abstracts of Papers for the 1998 Annual Meeting of the American Psychosomatic Society. Here's the abstract:
While odors have been demonstrated to impact on male sexual arousal, as measured by changes in penile blood flow, the analogous study in women has not been done. To determine this, the effect of odors on vaginal blood flow was ascertained. Nineteen nonmenstruating, nonanorgasmic women were studied. The average age was 31.8 years. Eight were single, seven married, and four divorced. They were on no medications. All scored normosmic on the University of Pennsylvania Smell Identification Test. Vaginal blood flow was measured while subjects sequentially wore eight surgical masks impregnated with odors and two blank masks which served as controls. Surgical masks were applied in a double blind randomized fashion. Vaginal blood flow was measured for 1 minute followed by a three minute odor free interval. The effect of odor was calculated based on changes from the average of the blood flow while wearing the blank masks. Vaginal blood flow changes were as follows:

Since some odors in nonanorgasmic women enhance vaginal blood flow, the evaluation of odors for the treatment of sexual arousal disorders in women may be warranted.
I note that there were only eight odors tested, so only a tiny portion of the odor space was involved; and we don't get standard deviations or any other indication of inter-subject consistency.
The fourth article (Hirsch, A.R., and Gruss, J.J.: "Human Male Sexual Response to Olfactory Stimuli," J. Neurol. Orthop. Med. Surg., Vol. 19, 1999, p. 14-19) again frustrated my attempts to track it down. The Journal of Neurological and Orthopaedic Medicine and Surgery apparently does (or did?) exist, with offices located at 2320 Rancho Drive, Suite 108, Las Vegas NV 89102-4592, but apparently it does not have a web site, the National Library of Medicine doesn't index it, ISI's Journal Citation Reports doesn't list it, the University of Pennsylvania Library doesn't subscribe to it, and in general it seems to have, shall we say, a rather low profile, despite the fact that 14 of Dr. Hirsch's publications have appeared there.]
---