« previous post | next post »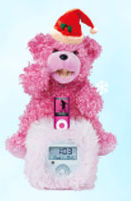 Thanks to reader JR, we are able to bring you the harmonic convergence of two recent LL memes, namely singing-dancing figurines and the vagaries of machine translation. The English advertising copy for the Ozaki iMini Pet ("Dock + Radio + Alarm + Speakers + Dancing Pet") is so badly written that it was probably created by a human pretending to be a translator, though it's possible that the human pretended to write a machine-translation program instead:
iMini is built in the rhythm decoding chip MJ1191 of the programming embedded system, and to integrate the HIPS skeleton; No matter you play any kind of music, MJ1191 always make your pet in dancing for you at once.

The folks who marketed this product line in Catalonia decided to go with a different strategy — they reproduced the English-language copy, and boasted that the iMini is
tan nou!! que no ens ha donat temps a traduir la pàgina, vine a veure'l!!!
Anybody who forks over $99 for one of these is probably not convinced by the ad copy, anyhow…
---