« previous post | next post »
Zipper has found his vocation: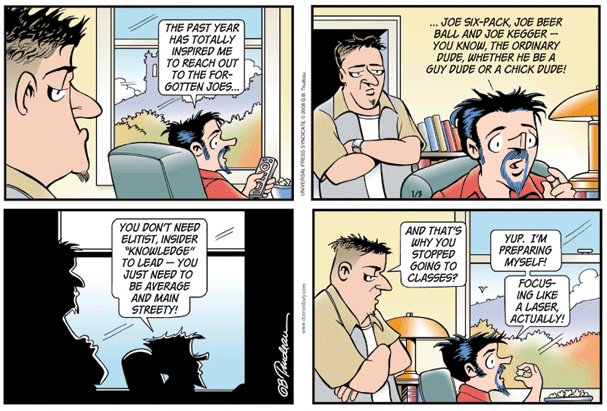 And after he graduates, he can get a job in journalism.
Here Jon Stewart explores a real-world case — the efforts of Gretchen Carlson, with her Stanford honors degree, to pretend to learn the meaning of words like "ignoramus" and "czar" (the relevant part starts around 2:35):
But it's not just Fox News whose reporters use ordinary-Joe ignorance as a rhetorical strategy. Listen to NPR's "Planet Money" team, Adam Davidson and Alex Blumberg, dealing on New Year's Day with the question "Can Economic Forecasting Predict The Future?". The context is a serious one, as Steve Inskeep explains:
The consensus among leading economists, for what it's worth, is 2.7 percent growth this year – not so great, not horrible. That's the forecast. NPR's Planet Money team has been studying just how the business of economic forecasting works and how much it can actually tell you about the future.
And the intrepid Planet Money team's "studying" has achieved a laser-like focus comparable to Zipper's and Gretchen's.  Here's the start of their visit with Joel Prakken, the creator of the economic forecasting program at Macroeconomic Advisors.
ADAM DAVIDSON: The closest thing to a modern day financial oracle is probably a computer program that lives in St. Louis, Missouri. That's where the offices of Macroeconomic Advisors are located, one of the leading economic forecasters in America. Joel Prakken, the man who created the computer program, showed us on a computer screen how it works. […]
The basic idea here is pretty simple. Take economic data from the past and use it to predict what will happen in the future. That's where Prakken comes in. For the past 28 years, he's been figuring out the exact relationships between different kinds of economic activity.
ALEX BLUMBERG: If average salaries go up by, say, four percent, how many more cars will people buy with their new, bigger salaries? What will all that spending do to the inflation rate, and what will the inflation rate do to home sales? And how will home sales, in turn, affect salaries? It's all connected, and Joel has written down exactly how it's all connected in a series of equations.
Mr. PRAKKEN: If we scroll down a little bit further to look at some of the equations of ours…
BLUMBERG: Oh gosh. [laughs nervously]
Mr. PRAKKEN: Yeah, okay. So- here is an equation – yeah…
BLUMBERG: Oh, my God. Whoa, it gets worse every page.
Mr. PRAKKEN: It does get worse.
BLUMBERG: We're looking at a screen that is full of really long numbers and Greek symbols and just all this math filling up the page.
Now, now, I just want to point out, also, so this one page here, there are – what? I'm looking at the four hundred…
Mr. PRAKKEN: You're on page forty nine of four hundred and forty seven.

DAVIDSON: Four hundred and forty seven pages of really dense math equations. That's how you forecast the economy.
Well, that certainly clears everything up!  You can listen to the whole piece here, but I've pulled out the crucial bit in case you want to download some choice phrases into your talking Ken doll:
Audio clip: Adobe Flash Player (version 9 or above) is required to play this audio clip. Download the latest version here. You also need to have JavaScript enabled in your browser.
As Barbie famously didn't say, "Math is hard, let's go reporting!"
By the way, for the past few days, the front page of the website of Dr. Prakken's company, http://macroadvisers.com, has looked like this:

I'm not certain that this is connected to the visit of the Planet Money team, but surely it's not a good sign.
But if you search past the damaged front page, you can find useful things like this tutorial, "Structure of the Macroeconomic Advisers' Macro Model of the U.S. Or How to Make an Honest Living Pushing Around Big Matrices of Helpless Numbers". You'd need to have taken an economics course or two to explain it to a general audience, though. Gretchen? Zipper? Anybody?
[Seriously, Davidson and Blumberg did a great job on their This American Episode segment "The Giant Pool of Money". But there, they got away with ignoring all the math above the level of percentages, because all the math above the level of percentages (the equations behind those credit default swaps and such) was pretty much smoke and mirrors, and the real story was the greedheads who hired the quants to model a world that didn't exist, and the fools who believed their pitches, and on down the line. So when D&B reduced the housing bubble to a simple morality tale about greed and gullibility, it worked.
But here, when you toss out the mathematical modeling to get down to the story underneath it, there's nothing much left.  Either these guys were completely out of their depth on this story, or they were just phoning it in.  Or they were trying to make a point, reinforced by the folderol about economic estimate updates in the next segment of their piece  — "None of those economic modelers actually know anything, it's all just a bunch of greek letters and fuzzy numbers — you might as well ask your taxi driver".]
[Update — the New Year's Day Planet Money segment on Morning Edition, which this post is based on, appears to be a shortened form of a longer This American Life segment, which is being broadcast for the first time today (at least on my local station).  In this longer version, D & B boggle at greater length over the math (some Greek letters and negative numbers are read out loud, and one of them expresses amazement that the other one remembers that a capital Sigma means that you add stuff up) — but in the end, they do manage, against the odds, to reduce econometrics to psychodynamics. The trick is to spend several minutes on an in-depth discussion of how forecasters hate to admit that they're wrong, even though they can't avoid being wrong to some extent…  As far as I can tell — I missed some parts of the live segment — there's no real discussion of what the models are really doing, which (as far as I understand it) is complicated mainly by virtue of having lots of moving parts, each of which is in fact pretty simple. More analysis once the audio and transcript are available.]
---