« previous post | next post »
At the Atlantic, David Shenk mediates an exchange of letters between Mark Blumberg and Nicholas Wade about the appropriateness of calling FOXP2 a "speech gene",  about "gene for X" thinking in general, and about the nature of science journalism:
Blumberg: Trumping up FOXP2 as yet another star gene in a series of star genes (the "god" gene, the "depression" gene, the "schizophrenia" gene, etc.) not only sets FOXP2 up for a fall; it also misses an opportunity to educate the public about how complex behavior – including the capacity for language – develops and evolves.
Wade: I'm a little puzzled by your complaint, which seems to me to ignore the special dietary needs of a newspaper's readers and to assume they can be served indigestible fare similar to that in academic journals. […]
As for missing an opportunity to educate the public, that, with respect, is your job, not mine.  Education is the business of schools and universities. The business of newspapers is news.
I'm glad we got that straightened out!
Read the whole exchange between Blumberg and Wade here.
For some background, see the discussion and links in "The hunt for the Hat Gene", 11/15/2009.
And as part of my job of educating the public, let me draw your attention to some scientific news announced in a recent paper by M R Munafò et al., and as far as I know not covered by any newspapers ("Bias in genetic association studies and impact factor", Molecular Psychiatry 14: 119–120, 2009):
Studies reporting correlations between genetic variants and human phenotypes, including disease risk as well as individual differences in quantitative phenotypes such as height, weight or personality, are notorious for the difficulties they face in providing robust evidence.  Notably, in many cases an initial finding is followed by a large number of attempts at replication, some positive, some negative. Although there has been debate over the statistical arguments concerning the strength of evidence in association studies, there has been less interest in understanding why it is that some genetic associations generate such large literatures of inconclusive results. We wondered whether one source of the difficulties in the interpretation of genetic association studies might lie with the journal that published the initial finding. Studies published in journals with a high impact factor typically attract considerable attention. However, it is not clear that these studies are necessarily more robust than those published in journals with lower impact factors. […]
Data were analysed using meta-regression of individual study bias score against journal impact factor. This indicated a significant correlation between impact factor and bias score (R2=+0.13, z=4.27, P=0.00002). Our results are presented graphically in Figure 1. We also note that journals with high impact factors tend to publish studies with high bias scores and small sample sizes (as indicated by the smaller circles in the figure).
Here's Figure 1 and its caption: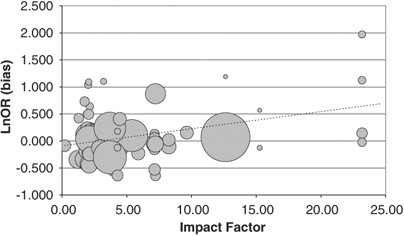 Meta-regression of individual study bias score and journal impact factor. Bias score is plotted against the 2006 impact factor of the journal in which the study was published. Meta-regression indicates a positive correlation between journal impact factor and bias score (R2=+0.13, P=0.00002), suggesting that genetic association studies published in journals with a high impact factor are more likely to provide an overestimate of the true effect. Circles, representing individual studies, are proportional to the sample size (that is, accuracy) of the study.
In other words, the more prestigious the journal (as measured by its "impact factor"), the less likely the genetic association studies it publishes are to be replicated.
If I were merely in the business of news or entertainment, I'd observe at this point that the particular FOXP2 study behind the Blumberg/Wade discussion was published in one of the highest-impact-factor journals in the world, Nature, and thus is statistically somewhat more prone to fail to replicate than if it had been published (say) in Prof. Blumberg's journal, Behavioral Neuroscience.
But this would be unfair. Details aside, the paper's conclusion (that the two different amino acids in the human-specific version of FOXP2 cause "differential transcriptional regulation in vitro" of a very large number of other genes) is surely true; and the detailed claims about the genetic networks involved may well turn out to be helpful in understanding how the capacity for language develops and evolves.
However, we can also be fairly confident that calling FOXP2 a "speech gene"  — and the whole "gene for X" style of thinking that this exemplifies — will become more and more clearly a source of confusion. In my earlier post, I quoted Simon Fisher (the scientist who first discovered the connection between a FOXP2 mutation and a syndrome that includes some speech-related disabilities):
[T]he deceptive simplicity of finding correlations between genetic and phenotypic variation has led to a common misconception that there exist straightforward linear relationships between specific genes and particular behavioural and/or cognitive outputs. The problem is exacerbated by the adoption of an abstract view of the nature of the gene, without consideration of molecular, developmental or ontogenetic frameworks. […] Genes do not specify behaviours or cognitive processes; they make regulatory factors, signalling molecules, receptors, enzymes, and so on, that interact in highly complex networks, modulated by environmental influences, in order to build and maintain the brain.
At some point, I guess, this will become not merely truth, but also news.
---