« previous post | next post »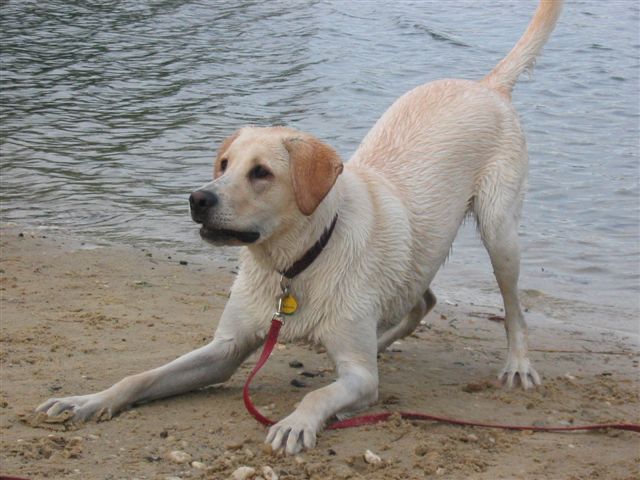 One of the key examples in Ruth Millikan's influential 1984 book Language, Thought, and Other Biological Categories was the "canid play bow". This piece of doggie-language, exemplified in the photo on the right, is "a highly ritualized and stereotyped movement that seems to function to stimulate recipients to engage (or to continue to engage) in social play."
I mentioned it in a LL post a few years ago, quoting from Marc Bekoff and Colin Allen, "Intentional Communication and Social Play: How and Why Animals Negotiate and Agree to Play":
From the intentional stance, if a believes that b believes that a desires to play (third-order) it would seem that ideal rationality would also require that a believes that b has a belief (second-order). But from a Millikanian perspective this more general second-order belief, if it requires a to have a general belief detector, may actually be more sophisticated than the third-order belief which supposedly entails it. A general belief detector may be much more difficult to evolve than a specific belief detector, for the detection of specific beliefs may be accomplished by the detection of correspondingly specific cues.
If this is correct, then on Millikan's account Jethro (Marc's dog) may be capable of the third-order belief that (or, at least, a state with the intentional content that) Sukie (Jethro's favorite canid play pal) wants Jethro to believe that her bite was playful not aggressive, even though Jethro is perhaps limited in his ability to represent and hence think about Sukie's second-order desires in general.
And according to Marc Bekoff, "Play signals as punctuation: The structure of social play in canids", Behaviour 132:419-429, 1995, the sequence patterns of bows with other actions, observed in a study of young wolves, coyotes, and domestic dogs, suggests that for canids in general,
signals such as the bow can reinforce ongoing social play when it is possible that it could be disrupted due to the aggressive, predatory, or sexual behavior of one of the interacting animals. […] Play in canids (and in other animals) requires a mutual sharing of the play mood by the participants. This sharing can be facilitated by the performance of bows immediately before or immediately after an individual performs actions that can be misinterpreted […]
(I'm adding "sharing of the play mood" to the list of inadequately investigated phenomena headed by "group glee"…  Why, amid all the thousands of flowers in the gardens of academia, are there no departments of Play Mood Studies?)
Bekoff concludes that
In addition to sending the message "I want to play" when they are performed at the beginning of play, bows performed in a different context, namely during social play, might also carry the message "I want to play despite what I am going to do or just did — I still want to play" when there might be a problem in the sharing of this information between the interacting animals.
Bekoff speculates:
How might information between sender and recipient be shared? It is possible that the recipient shares the intentions (beliefs, desires) of the sender based on the recipient's own prior experiences of situations in which she performed bows. In an important paper on human behavior that has yet to find its way into comparative ethological circles, Gopnik (1993, p. 275) has argued that " . . . certain kinds of information that comes, literally, from inside ourselves is coded in the same way as information that comes observing the behavior of others. There is a fundamental cross-modal representational system that connects self and other." Gopnik claims that others' body movements are mapped onto one's own kinesthetic sensations, based on prior experience of the observer, and she supports her claims with discussions of imitation in human newborns.
[The reference is to A Gopnik, "Psychopsychology", Consciousness and Cognition 2(4): 264-280, 1993.]
Against this background, I was interested and slightly puzzled to read this blog post by a dog trainer, Kelley Filson, "The Play-Bow: Not Just A Cute Trick", 7/14/2009:
Many of my clients dogs have a hard time playing with and interacting with other dogs. These dogs often play well with well-known, "buddy-dogs" and demonstrates good play-skills in comfortable situations, but do poorly with new dogs or in new places.
With work the dog can learn to meet and greet the novel dogs without being inappropriate, but there is often no play. In these cases the dog-in-training often starts getting jumped by the other dogs (in a not so friendly way). This happens after the Meet-&-Greet, because the dog-in-training sniffs a hello and then just stands there stiffly. This is awkward and invites aggressiion – a sort of preemptive strike against the dog who is standing stiffly and giving everyone the willies.
In these cases teaching a PLAY-BOW can bridge the gap between meeting and becoming friends. It gives the dog-in-training something to do (besides standing awkwardly). Furthermore, despite its trained-awkwardness it gives the other dogs something to do too – they can respond with more playfulness.
"Teaching a PLAY-BOW"? Why do some dogs need to be trained to produce this instinctual signal?
The most likely explanation, I guess, is that they know how to perform it, but not when to perform it. In particular, initiating or maintaining play with unfamiliar adults is perhaps not a natural reaction, except for animals in whom the behavioral effects of neoteny are especially strong.  Or maybe animals that are mostly "only dogs", raised without much conspecific company, are inadequately drilled in the "fundamental cross-modal representational system that connects self and other"?
In any case, dogs are not the only ones who sometimes need help with this sort of thing.  Unfortunately, not all forms of communicative training are equally effective: see, for example,  M.E. Herron et al., "Survey of the use and outcome of confrontational and non-confrontational training methods in client-owned dogs showing undesired behaviors", Applied Animal Behaviour Science, 117:47-54, 2009.
---