« previous post | next post »
Yesterday in the Journal of Biology, the editor introduced a new series (Miranda Robertson, "Ockham's broom"):
Although it is increasingly difficult to gauge what people can be expected to know, it is probably safe to assume that most readers are familiar with Ockham's razor – roughly, the principle whereby gratuitous suppositions are shaved from the interpretation of facts – enunciated by a Franciscan monk, William of Ockham, in the fourteenth century. Ockham's broom is a somewhat more recent conceit, attributable to Sydney Brenner, and embodies the principle whereby inconvenient facts are swept under the carpet in the interests of a clear interpretation of a messy reality. (Or, some – possibly including Sydney Brenner – might say, in order to generate a publishable paper.)
Robertson points out that sweeping things under the rug is often a necessary condition for scientific progress:
While Ockham's razor clearly has an established important and honourable place in the philosophy and practice of science, there is, despite its somewhat pejorative connotations, an honourable place for the broom as well. Biology, as many have pointed out, is untidy and accidental, and it is arguably unlikely that all the facts can be accounted for early in the investigation of any given biological phenomenon. For example, if only Charles Darwin had swept under the carpet the variation he faithfully recorded in the ratios of inherited traits in his primulas, as Mendel did with his peas, we might be talking of Darwinian inheritance and not Mendelian (see [3]). Clearly, though, it takes some special sophistication, or intuition, to judge what to ignore.
Her reference [3], by the way, is Jonathan C Howard, "Why didn't Darwin discover Mendel's laws?", J Biol 8:15, 2009.  Howard argues that  Darwin failed to discover the "laws" of (Mendelian) inheritance because he was unwilling to sweep under the rug the complexities that he observed in his genetic experiments — many of which involved, like most genetic phenomena, non-Mendelian inheritance. Meanwhile, it's worth noting that R.A. Fisher ("Has Mendel's work been rediscovered?" Ann. Sci. 1:115-137, 1936) made a detailed argument that Mendel's results must have been fraudulent (or, as Fisher quaintly put it, "are the product of some process of sophistication"), given how close they were to the expected values of the random process involved even in "mendelian" inheritance. Here's one of the summary tables from Fisher's argument: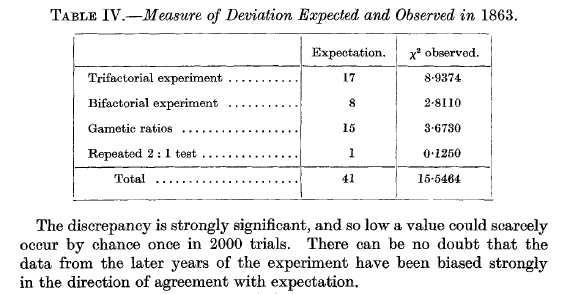 As Fisher explained, "Fictitious data can seldom survive a careful scrutiny, and, since most men underestimate the frequency of large deviations arising by chance, such data may be expected generally to agree more closely with expectation than genuine data would. "
Arthur Koestler (in The Case of the Midwife Toad, 1971) suggested that perhaps Mendel explained his theories to the monks who were tasked with carrying out the experiments, and they simply reported back the results they understood him to want, rather than actually carrying out the onerous task of hand-pollinating numerous plants according to a complicated schedule.
Sydney Brenner's comment, I've heard, was that Mendel "didn't invent the numbers, but he certainly knew when to stop counting". I haven't been able to find out where that quote comes from either, so perhaps it's from the same source as Ockham's broom.
Meanwhile, though I've failed to find either of those citations, reading through Brenner's old "Loose Ends" columns at Current Biology led me to some other gems, such as his innovative solutions to various problems of "Academic dynamics", including the Pharaoh Configuration:
This is a scheme which offers a solution to the fundamental problem of all scientific departments, which is how to get rid of the old — both people and science — and create space and resources for the young and the new. Our elegant answer is to treat all scientists as Pharaohs; thus, when a senior scientist retires, he and all of his research associates, post-docs, students and technicians are sacrificed and buried in a specially constructed pyramid, together with all of their equipment to enable them to continue research in the after Life Sciences. At one blow, space would have been created for a new professor and a new group, without any arguments and with none of the rancour that usually accompanies such events.
It is obvious that this needs to be carried out only once. Thereafter, all that would be required at the appropriate time is for two men to arrive, equipped with surveying equipment and tape measures. A new pyramid would be laid out in plain sight of the present occupants, who would instantly vacate the premises.
---