« previous post | next post »
Ben Schott cites some amusing items from the 1891 Ango-American Telegraphic Code ("Twittergraphy", 8/2/2009):

(Click on the image for a larger sample.)

The whole code-book is available from Google Books here. I'm sorry to say that Log is not a code-word, but a coded telegram reading "Language Hat" would be interpreted "Do not leave if you can help":


Just as la- words apparently have to do with the concept of "leaving", and ha- words have to do with "help", so lo- words deal with "loss":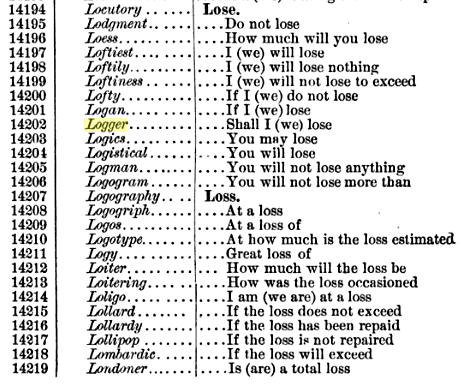 So I feel that we've dodged a bullet here — "Language Log" might well have translated as "Do not leave You are a loser". But it didn't.
Unfortunately, no one (as far as I know) has written a utility for decoding messages written in (or at least interpreted according to) this code. (And this would be more fun to do if the code gave plaintext equivalents for a larger fraction of common English words.)
(A list of other commercial code-books from the golden age of telegraphy can be found here, with pointers to scanned copies.)
---