« previous post | next post »
It's a trend: comix-ironic Whorfianism. Several readers have drawn my attention to the latest Diesel Sweeties: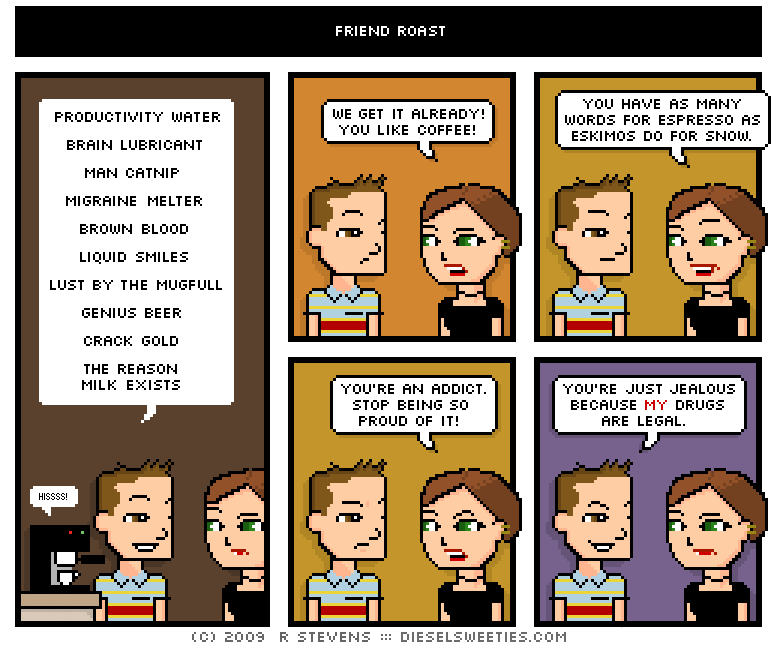 Also here and here and here and here and here and …
Just to underline the fact that the rhetorical trope is alive and well outside of the comics, here's this morning's haul from Google News:
I read once that the ancient Egyptians had fifty words for sand & the Eskimos had a hundred words for snow. I wish I had a thousand words for love, …
Tetzlaff seems to have as many pianissimos as the Inuit proverbially have words for snow.
…a performance long on dynamic energy and full of more tunes built for seduction than Eskimos have words for snow
Eskimos are said to have more than a dozen words for snow. Sandi and I now have at least two dozen for rain, only three of which are printable.
New Zealanders have a lot of words for failure and disappointment, just as the Eskimos have a lot of words for snow.
Like Eskimos and snow, we have 40 different words for flat and the fish derivatives to make flat rideable.
It is said that the Eskimos have 20-plus words for different kinds of snow. With a little embellishment, perhaps, a life-long dairy farmer could come up with at least half that number of words for grass turning into hay…
…the carrier seemingly sought to offer at least as many measures of its debt as Eskimos have words for snow.
Like Eskimos with their fifty words for snow, my students had a keen appreciation gradations in skin tone…
Like Eskimos and "snow," botanists have dozens of words for "hairy," and a microscope reveals why.
---