« previous post | next post »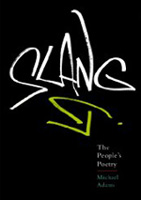 If you haven't picked up a copy of Michael Adams' new book, Slang: The People's Poetry, well, what are you waiting for? For starters, it's a lively and engaging look at English slang and its multitudinous forms. At the same time, it's a thoughtful interrogation of what "slang" actually is, and how we might determine its boundaries. One way that Michael expands traditional notions of slang is in his treatment of affixation, or what he amusingly calls "unorthodox lexifabricology." I talked to Michael about slangy affixation in the second part of my two-part interview with him for the Visual Thesaurus. An excerpt follows below.

VT: In your book, you have a whole section on slangy affixes (prefixes, suffixes, and infixes). This is lexical material that is not easily made into a dictionary entry, necessarily. For instance, there's the -iz- infix (hizzouse for house) and the -diddly- infix (scrum-diddly-umptious). Is your goal there to show that the "poetic" productivity of slang can work on a sort of sub-lexical level?

MA: In a way, I think it's both sub-lexical and super-lexical. The very practice of using infixes like that can be slangy, so that's super-lexical. The same is true with suffixes like -y. The slanginess comes out of the suffixing as much as it comes out of a particular suffix that you would define. But it's also true that because those structures are so flexible and they can be used so readily on the fly or in the moment, it's easy for people to use them to come up with nonce words. They're infinitely productive.

One of the things that I argued in Slayer Slang and argue again in this book is that we think that there are constraints on these suffixes, but there really aren't. Always, eventually, we figure out a way to get outside of those constraints, so that we can make up new words. You'd think if you were looking historically at the language, you'd say, "Well, you can see what some of the rules applying to -y suffixing are. You can't add the -y suffix to a seven-syllable word." But you can, if somebody decides to do it. And in some situation where that could be a slang opportunity, it's not just that somebody could do it, somebody will do it. We just won't know about it.

VT: Or we'll know about it if we Google for it.

MA: Well, exactly, and as I say in the book, one of my most astonishing adventures over the last several years has been just plugging these in, really just saying, "Now surely, this can't take the –y suffix," and then finding out about fifty percent of the time that it can. Fifty percent of the time it doesn't, but there's no natural reason that the words that I tested that haven't appeared with a -y suffix yet couldn't take that -y suffix.
(Read the rest here.)
There's no better proof of Michael's contention about the productivity of the -y suffix than a recent OUPblog post by Mark Peters, whose Wordlustitude blog is a never-ending morpholicious nonce-word-athon. You might think that -y would resist suffixation on words already ending with the /i/ vowel, but you would be wrong. Mark has found a ton of "double-y" words in the wild, like jealousy-y, technology-y, and secret identity-y. The nonce formation that takes the cake, though, is mystery-y-ish-y:
My faith tells me that marital sex, like all acts blessed with holiness, is a great mystery — and from thence comes its beauty.
Well, it WOULD be wouldn't it? Since Dawn's not married, she can't be having marital sex. It's all mystery-y-ish-y. And she can imagine it's pretty, if she wants.
(May 23, 2006, Pandagon)
As Mark writes, "After years of weird-word collecting, I'm pretty unfazed by words with multiple, redundant, exuberant suffixes… However, even I was gobsmacked out of my chair when I spotted mystery-y-ish-y." Indeed, the mystery-y-ish-iness of English word formation never ceases to amaze.
(For more on the -y suffix, with examples from Slayer Slang, see my 2006 post, "Feeling all Olympic-y.")
---