« previous post | next post »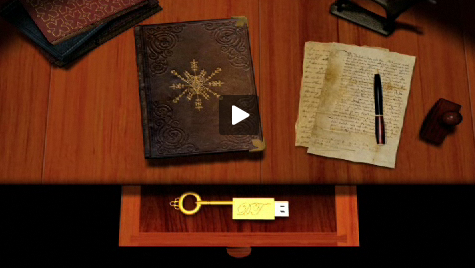 The OED glosses dongle as "A software protection device which must be plugged into a computer to enable the protected software to be used on it", and gives the earliest citation as
1982 MicroComputer Printout Jan. 19/2 The word 'dongle' has been appearing in many articles with reference to security systems for computer software [refers to alleged coinage in 1980].
(The etymology is given as [Arbitrary], which seems a bit harsh.)
But Suzanne Kemmer recently observed in an email to me that "people are using  "dongle" to mean anything that can plug into a USB port, and since for most users that is a flash drive, 'dongle' can now be used for a garden-variety flash drive".

She cites a wisegeek page that says:
A storage or memory USB dongle, also called a memory stick, provides a convenient means to pass files between computers or devices. […] Another type of USB dongle can add WiFi® functionality to a computer to provide wireless Internet connectivity. […] If you require Bluetooth® a personal area network (PAN) used to wirelessly connect your digital devices to each other — consider a USB Bluetooth® dongle.
And most important, Suzanne sent a link to the trailer for Stephen Fry's "new audio series" The Dongle of Donald Trefusis, from which I took the somewhat steampunkish screenshot above.
Who is Donald Trefusis? The publicity page explains that:
Donald Cornwallis Treadway Trefusis, eccentric senior tutor and professor of philology at St. Matthew's College, Cambridge, is a fictional character created by Stephen Fry.
Something of a perennial entity in the Fry canon, Donald Trefusis was a major figure in his first novel The Liar, and subsisted viva voce for the occasional contributions to Ned Sherrin's BBC Radio 4 programme Loose Ends – the transcripts of which were subsequently published as essays in Paperweight.
A veritable polymath and metalinguist, Trefusis is distinguished by his very liberal social outlook, his propensity for old-fashioned phraseology, and his curious use of the non-sequitur as greeting (e.g. "Hugely so to you all").
Episode #1 was released on May 26, and is apparently the most popular iTunes download in the UK these days. It's also doing well in the U.S. — "most popular audiobook" or something like that — but I haven't seen any uptake in the U.S. media yet.
The current meaning for dongle seems to be something like "a self-contained device that plugs into a  port on a computer that is normally used for connections to a separate external device". Thus in addition to the original serial-port dongles, and the USB dongles that Suzanne (and Stephen Fry) wrote about, there are also "firewire dongles", and presumably there could be dongles for any other sort of port as well.
[I'm not familiar enough with Stephen Fry's work to guess whether his character Donald Trefusis is meant to echo Shaw's Sidney Trefusis in An Unsocial Socialist. But my sense of the name's Wodehousian connotations is nicely evoked by the lead sentence of its top hit in the NYT's archive (from Dec. 20, 1885):
A great and very painful sensation was excited throughout Devonshire on Friday by the news that Col. Walter Trefusis had died suddenly on the previous evening in London, where he had just arrived with Lady Mary Trefusis from Ditton Park, the Dowager Duchess of Buccleuch's place in Bucks, where he had been staying for about three weeks.
]
[Thanks to the tip from Brett below, here are three Dilbert cartoons on the subject of changes in the meaning of dongle:



]
---