« previous post | next post »
"Noam Chomsky to become new X-Factor judge", NewsBiscuit 8/23/2014:
Professor of linguistics and political campaigner Noam Chomsky has been confirmed as the new judge on TV talent show The X Factor. 'Cheryl Cole was still recovering from malaria and we needed someone who could fill the intellectual void,' said programme creator Simon Cowell, 'Professor Chomsky is perfect and the audience just loves him.'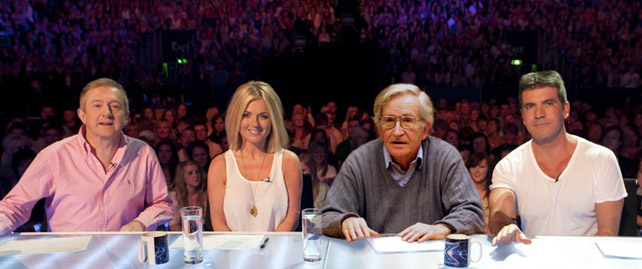 In his first outing as judge, Chomsky quickly made his mark. 'Your act is part of a propaganda state promoting a culture-ideology of comforting illusion', he told one hopeful young girl, before adding, 'I'm saying yes.'
Chomsky then set about a teenage boy-band, describing them as 'yet another example of pre-packaged ideological oppression whose lyrics systematically fail to demonstrate even a basic understanding of what happened to East Timor in 1975,' he paused for effect, 'But, I'm giving you a second chance…You're through to the next round.'
Not satisfied with attacking the acts, Professor Chomsky then turned his critique on The X Factor audience. 'You are all complicit in a hegemonic construct designed primarily to keep you from questioning what is really going on in the world,' he told them, 'You must learn to think critically and reject the pernicious cult of celebrity.' It was at this point that the audience went wild, whooping, cheering and chanting his name. 'We love you Chomsky!' they screamed as the 81 year-old professor sat at the table with his head in his hands.
The appointment of Chomsky has proved so successful that Simon Cowell is now believed to asking many more public intellectuals to become X Factor judges including Amartya Sen, Umberto Eco and Sinitta.
As the show continues each judge will get to manage their own favourite acts. 'There is a lot of talent out there,' said Chomsky, 'but I have my eye on an anarcho-syndicalist Peruvian flute band who are really going places.'
However, some rivalry has already emerged between Professor Chomsky and fellow judge Louis Walsh. 'I have the utmost respect for Chomsky,' said Walsh, 'but his greatest work was done more than forty years ago. In that respect he's not much better than Geri Halliwell.'
---