« previous post | next post »
Peter Mucha, "Lottery legend Joan Ginther bet flabbering sums on scratch-offs", philly.com 7/6/2014:
For years, people who dream of beating the lottery have puzzled over the amazing case of Joan Ginther, who made headlines around the world by scratching off "10MILL" on a $50 instant ticket in June 2010 to win her fourth multimillion-dollar prize. 
Skeptics wondered if she cheated or had an ingenious system for pinpointing winners. After all, Ginther received a Ph.D. from Stanford and has lived for years in Las Vegas. News reports at the time, citing mathematicians, fueled the fire: They put Ginther's chances of four such wins at 1 in 18 septillion. Remarkably, all four of her winners were purchased in or near her tiny hometown of Bishop, Texas. […]
Finally, answers have been found.
A series of discoveries based on painstaking analysis by Philly.com of newly obtained Texas Lottery records, with the help of experts, has led to a surprising conclusion: Basic gambling principles — like card counting in blackjack, money management in poker, and timing in progressive slots — may have inspired Joan Ginther to buy a flabbergasting number of $20 to $50 tickets, perhaps 80,000 worth $2.5 million or more.
"Flabbering" in the headline seems to be an editorial shortening of "flabbergasting" in the body of the story. To my surprise, the OED has no entry for flabber — it's unusual for such a phonotactically cromulent word not to exist even as, say, the name of a regional delicacy made from oatmeal fried in lard.
The OED's etymology for flabbergast doesn't offer any comfort:
First mentioned in 1772 as a new piece of fashionable slang; possibly of dialectal origin; Moor 1823 records it as a Suffolk word, and Jamieson, Suppl. 1825, has flabrigast to gasconade, flabrigastit worn out with exertion, as used in Perthshire. The formation is unknown; it is plausibly conjectured that the word is an arbitrary invention suggested by flabby adj. or flap n. and aghast adj.
There are plenty of current internet examples, but mostly not in directions that support the headline.
Obligatory screenshot: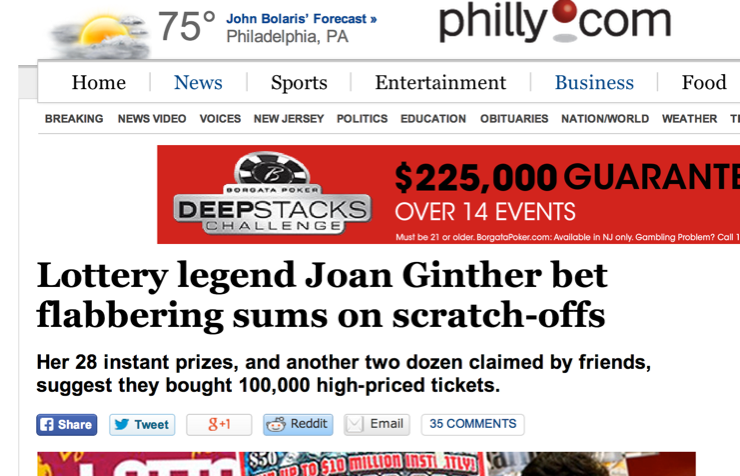 [h/t Jeffrey Kallberg]
---