« previous post | next post »
Annie Wagner asks:
I have a timely question. Which came first–the phrase "field goal" as used in basketball or as used in football? My usual sources are not being helpful.
The OED gives the gloss "esp. N. Amer. and Austral., (a) in Football, a goal scored from the field of play; (b) in Basketball, a goal scored while the ball is in play; (c) in other games". The citations give the nod to football by four years, but both examples look easy to antedate:
1902 Chicago Record-Herald 28 Sept. 2/3 A try for a field goal was made, but..the kick was easily blocked. 1906 Off. Bk. Rules Govt. Game of Basketball 1906-1907 13 Flint..has tallied the most field goals.
And indeed, a search in the NYT's online archives produces "JOHNS HOPKINS BADLY BEATEN.; ITS FOOT-BALL TEAM DEFEATED BY THE PENNSYLVANIA UNIVERSITY BOYS", Nov. 11, 1883: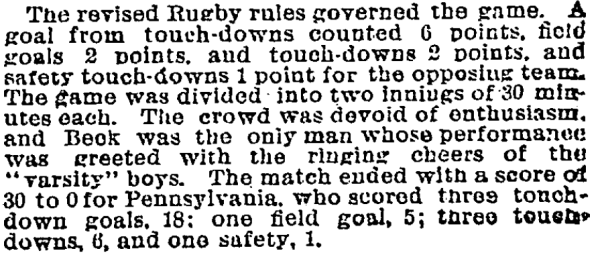 I seriously doubt this is the earliest football-related use. But since James Naismith organized the first basketball game on January 20, 1892 (in the gym at the YMCA in Springfield MA), a bit more than eight years after the date of this story, I think we can take football's priority to be demonstrated.
This article raising another question: what was the difference between a "touchdown goal", apparently worth 6 points then as now, and a "touchdown", apparently worth just 2? Was plain touchdown the term for what's now called a touchback (which now awards no points to anyone), or was it the equivalent of today's "point-after-touchdown", or what?
[There is also either a typographical error or a small problem of arithmetic — after telling us that field goals counted for 2 points each, the reporter includes "one field goal, 5" in the final tally. ]
---