« previous post | next post »
Some sub-editor at the  Telegraph has recently held a sort of master class in prepositional phrase attachment. It starts with the headline: "Gordon Brown is frustrated by 'Psycho' in No 10". The sub-head then leads the reader down a parenthetical garden path with  virtuosic bravado (though purists may object to the use of missing punctuation):
While not exactly a film buff, Gordon Brown was touched when Barack Obama gave him a set of 25 classic American movies – including Psycho, starring Anthony Perkins on his recent visit to Washington.
In case some higher power intervenes to spoil this specimen, here's a screen shot: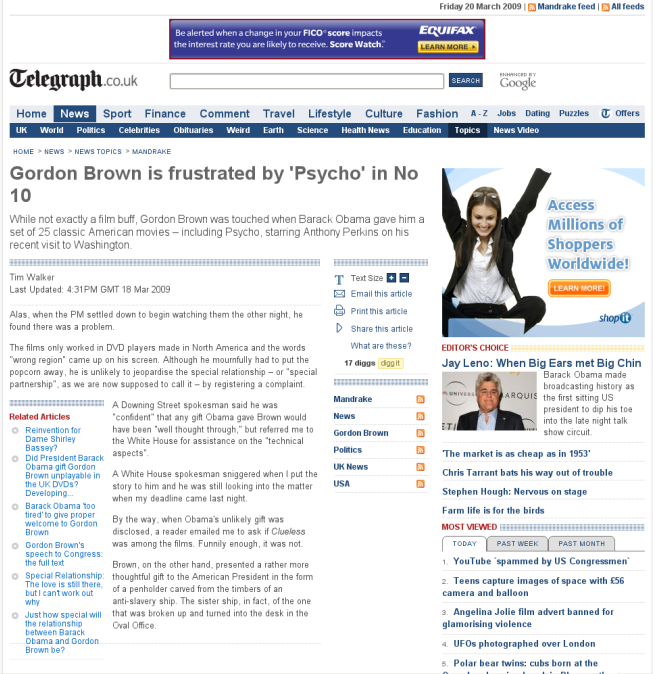 (Click for a larger version.)
Being insensitive to the finer points of British political and journalistic culture, I can't tell whether this is a sign of (a) cost-cutting, (b) educational failure, Youth Today, and the Decline of Civilization, (c) subtle editorial irony, or (d) all of the above.
The body of the story, by Tim Walker, appears to be linguistically unremarkable, at least with respect to the parsing of post-head modifiers. But American readers may be surprised at the assertion, in the reporter's voice, that a White House spokesman "sniggered":
A White House spokesman sniggered when I put the story to him and he was still looking into the matter when my deadline came last night.
Sniggering seems to be a routine feature of attributive tags at the Telegraph. Here's one from another recent story:
Yet, possibly as a result of the democratic message of his work, Gormley suffers a fraught relationship with the art establishment, who often look down on his output. Does he believe that he is the victim of critical snobbery? "I'm very – what is the right word? – suspect," he says, with a bitter snigger.
However, I haven't found any other examples where sniggering isn't just a manner modifier in an attribution, but consitutes the entire quoted content of an official response.
---