« previous post | next post »
Sent in by A.C. from NZ:
My ISP's sign-on page has a 'daily picture', accompanied by some surprising(?) trivia. (Usually the surprise is how strained is the link to the picture and how badly they twist the language — often ending up misusing language in some way or other — this one is itself an example: is it really a fact *about* snow?)
Even a simple Google search offers an Inuktitut word for hello. (Admittedly also a large number of links alleging "no word for hello".)
Sparing you the screenshot, the "Daily Fact" is "Snow: Eskimos have hundreds of words for snow but none for hello."
And the "Related link" is a 1949 documentry on YouTube:
I don't have time this morning to listen to the whole thing, to see if the words for snow and hello are discussed. Perhaps someone will let us know in the comments.
A.C. also points out that the Daily Fact for May 2 poses some interesting issues in quantifier interpretation — "Camel: "Camels can kick in all four directions with all four of their legs."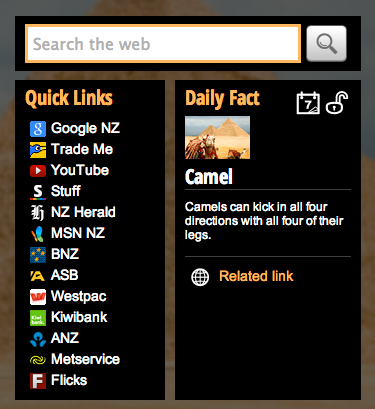 The "Related link" in this case is a page about wild Bactrian camels, which unfortunately has nothing about kicking or even about legs.
---