« previous post | next post »
Either the NYT has changed its policies, or some editor was asleep at the beeper and let  this through by mistake — "Raptors Drop Expletive and Game to Nets in Playoff Opener", NYT 4/19/2014:
Sparked by a stinging expletive the NBA playoffs got off to an explosive start as the Brooklyn Nets landed the first blow in a suddenly bitter Eastern Conference first round match-up with a 94-87 win over the Toronto Raptors on Saturday.  Out of the playoffs since 2008, Toronto's return to the postseason was both eventful and controversial, upping the ante in the best-of-seven series.  
With A list celebrities, including rappers Drake, Jay-Z and Beyonce, occupying courtside seats, an embarrassing technical malfunction and a jaw-dropping expletive delivered by Raptors general manager Masai Ujiri to thousands of frenzied supporters at a pre-game pep rally, the first game of the NBA postseason offered a little bit over everything.
Despite topping the Atlantic Division and setting a franchise record with 48 victories, the Raptors have had a harder time winning respect than games. Meanwhile the Nets dropped four of their last five contests, including a 29-point loss to the Cleveland Cavaliers in their season finale, to cement a Toronto match-up.
 The Nets denied any suggestion of subterfuge but Ujiri made his position crystal clear, shouting "Fuck Brooklyn!" at a fan rally outside Air Canada Center prior to the start of Game One.
It's a Reuters wire story, but still — things were different for Bina Shah just a few days ago ("#KholoBC", 4/12/2014).
Obligatory screenshot: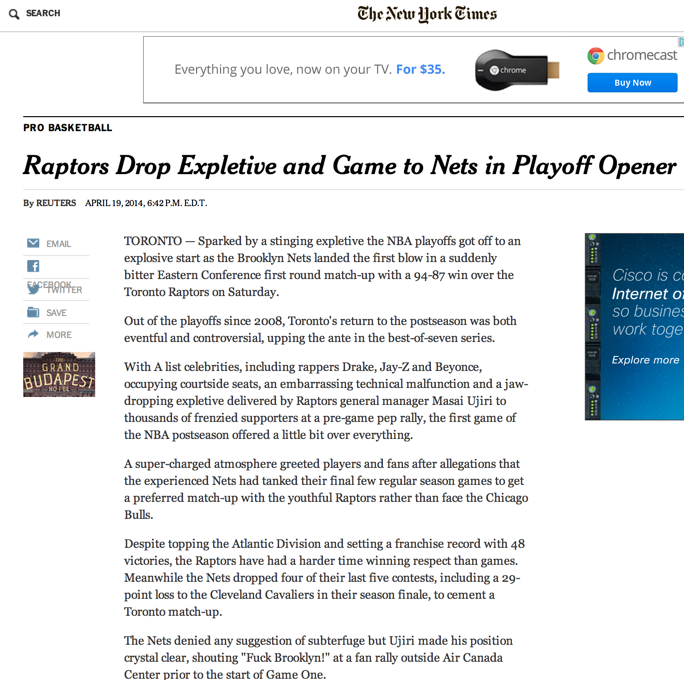 ---