« previous post | next post »
In a comment yesterday, Emily asked:
I tutor the SATs, including the writing section, in addition to helping students with other kinds of writing.
What am I supposed to tell my students about zombie rules? The fact is that some misguided teachers and graders may enforce them. (SAT graders not so much, though–-I think I'm close to getting a handle on what those people are looking out for.)
When I was in school I breezed happily by all this nonsense because I had smart teachers and a strong authorial voice. But not all of my students do. So what to say?
Let me start by quoting Rob Balder's PartiallyClips for 2/17/2009, which celebrates all of us who, like Emily, escaped from school with our souls intact: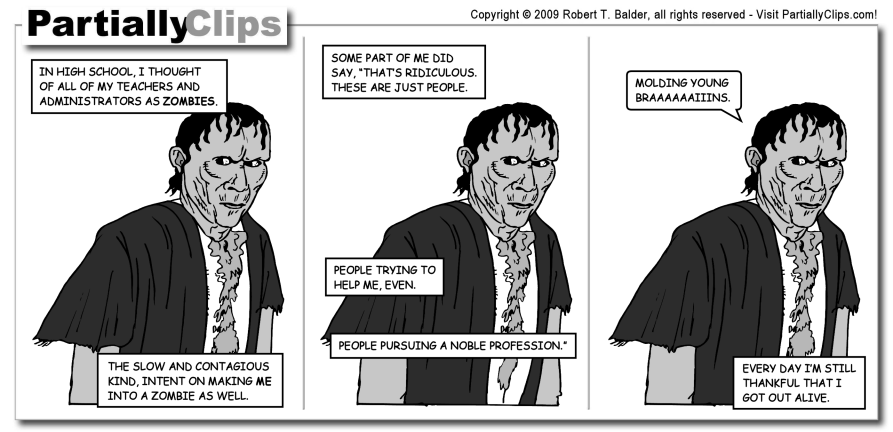 (Click on the image for a larger version)

But what's the right answer to Emily's question?
My own suggestion is to present this problem as a matter of "audience design".
Some scientific publications forbid the use of first-person pronouns. Thus the Acoustical Society of America explicitly intructs those submitting papers that they should
Use passives instead of pronouns "I" and "we," e.g., "It was noted" instead of "We noted."
This is obviously not a claim about the English language, or even an entirely general fact about scientific writing, where you can often find sentences like these:
To get further insights in the molecular mechanisms, we reduced endogenous TERT levels by shRNA and measured mitochondrial reactive oxygen species (mtROS).
Rather, the prohibition of first-person pronouns is an idiosyncratic quirk of certain organizations, who have elevated into a "rule" the tendency of scientific and technical writing to be objective, detached and impersonal.
We could argue about whether this tendency is a Good Thing (because objectivity should be valued in scientific discourse) or a Bad Thing (because it encourages people to hide their motivations and their doubts). And  if we agree that impersonal prose should be our goal, we could argue about whether elimating first-person pronouns in favor of passive-voice clauses is a good way to get there. But if we're submitting something to the Acoustical Society of America, this whole discussion is beside the point — we need to play by their rules.
It seems to me that you can teach "zombie rules" in something like this same way.
That is, you can explain what the "rule" is; you can tell the story of its history and its motivation; you can demonstrate that it's not really a fact about the English language in general, or even about formal written English as used by the best writers over the course of history; and you can tell the students where they are likely to run into people who believe in this particular myth, or at least may try to enforce it.
The result should be to teach the students a little something about the structure of the English language, a bit of sociolinguistics, and a little intellectual history to boot.
The Zombie Rule forbidding phrase-final prepositions, lampooned here, is an especially good candidate for this treatment. Students get to learn what a relative clause is, who John Dryden, Ben Jonson, and Winston Churchill were, and perhaps, if you can invent a clean enough version of the standard joke that's still funny, what a vocative is.
The Zombie Rule forbidding initial coordinators is not quite as good a case, since I don't think there's a striking anecdote about how it got started. But you can tell a story about the good motivations that this "rule" perverts; you can teach a little bit of syntax; you can give examples of great writers who use sentence-initial and and or; you can find some examples where sentence-initial and is used inappropriately, or is over-used; and all this should lead to a good discussion about the stylistic and rhetorical issues involved.
---