« previous post | next post »
Among the "10 best things Jean Claude van Damme has ever said", according to BuzzFeed, #2 is this: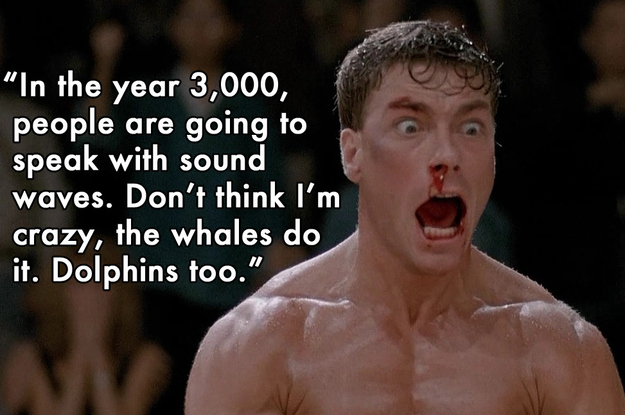 An older source is here. The internet in my hotel is so slow that I can't track down the original source: maybe later. Good pragmatics exam question: why is his (obviously true) statement funny?
Update — OK, I'm back home in Philly, and freed from Swisscom's poor simulation of the antique dial-up experience at my hotel in Amsterdam: frequent unresponsive gaps interspersed with bursts of speeds in the 100 kilobit/sec range, mostly averaging not much better than a quaint 3000 baud. (Apparently all the data is routed through a clockwork switch in Geneva. Very steampunk, but kind of annoying if you want to watch streaming video.)
Meanwhile, some commenters have found (pieces of) the original quasi-French interview, and it's clear that JCVD has been wronged by Buzzfeed. What he actually said is much more in the line of standard dumb celebrity spiritualism, without the spectacular distillation of ignorance in the inaccurate English translation that BuzzFeed gave:
Audio clip: Adobe Flash Player (version 9 or above) is required to play this audio clip. Download the latest version here. You also need to have JavaScript enabled in your browser.
En trois mille les gens vont parl(er) avec euh
les yeux, des ondes,
(me prends) pas fou, (( )) des gens- les baleines le font,
les baleines le font, et euh et
les dauphins le font aussi, ces les animaux tres intelligent dans la mer.
Nous on vit dans la terre.
Et eux se communiquent, vu qu'ils savent pas parler ((blebleble)) dans l'eau,
ils- des ondes- ils sont forcés d'utiliser des ondes, des ondes de love […]
In three thousand people will speak with uh
their eyes, with waves,
don't think I'm crazy, people- whales do it,
whales do it, and uh and
dophins do it too, these are very intelligent animals that live in the water,
and they communicate, since they can't talk ((blubblubblub)) in the water,
they- waves, they have to use waves, waves of l'amour […]
---