« previous post | next post »
Inspired by Mark Liberman's post, "Putting the X in AXB," I spent some time trying to find the origin for this venerable snowclone. A quick check of newspaper databases uncovered "putting the fun in fundamentals" from November 1912, and it turns out that the fall of 1912 was when the snowclone snowballed. It's a nice example of how, even a century ago, lingua-memes could "go viral" (and go stale).

Kylopod surmised that the roots of the snowclone were vaudevillian, and performers in the vaudeville tradition may very well have played a key role. But apparently so did the cartoonist Thomas Aloysius "TAD" Dorgan. [Update: Nope — Rube Goldberg, see below.] Dorgan has been credited with many neologisms, even when the credit was undeserved — most notably hot dog, which long predated his cartooning career. His slangy usage was undoubtedly influential, though, and one reflection of that was the humorous formula, "I'm the guy who…" One page on Dorgan explains:
He coined the gag phrase "I'm the guy who…" around 1910, using it as a stock saying by one of the characters in a comic strip he was drawing. The phrase became quite popular and innumerable variations were made to the original concept.
[Correction! As pointed out in the comments below, this refers not to Dorgan but to Rube Goldberg. A misreading on my part, helped along by the Perelman piece below, which really was about Dorgan.]
S.J. Perelman, in a reminiscence of Dorgan in the Apr. 23, 1978 New York Times Sunday Magazine ("How I Learned to Wink and Leer"), wrote:
About that time, Tad started popularizing his "I'm the guy" sayings, and I promptly added two socko examples to my persiflage, "I'm the guy who put salt in the ocean" and "I'm the guy who put the pep in pepper."
As Perelman's examples illustrate, Dorgan used a more general boastful formula ("put [the] salt in the ocean") as well as the now-familiar "X in AXB" format ("put the pep in pepper"). I'm not sure when exactly Dorgan started using these, but 1910 seems about right. Here's a description of a vaudeville performer in Atlantic City, NJ from that year, indicating that the general formula was in use (though perhaps not yet in the "X in AXB" form):
Beginning Monday, Eva Tanguay will be the topline performer at the shore — on the stage at least. It is surely not going too far to predict that she will score a hit, for although there are some who insist that she is not the one who put the salt in the ocean, it is generally agreed that it was she who put the ginger into vaudeville.
("Sea-going Washington Ripples," Washington Post, July 10, 1910, p. S3)
There was evidently a vaudeville song with the title "I'm the Guy" at the time. [Update: See comments below — "I'm the Guy" was written by Goldberg in 1912.] I haven't seen lyrics from it, but it probably approximated this verse of boasts from 1912:
I'm The Guy
Who?
Me?
Oh! I'm his nibs who put the ribs
In umbrella;
I'm the gink who gave the stink
To gasolene;
I'm the chap who put the snap
In sarsaparilla;
Why, I'm the guy who put the fry
In cottolene!
[etc.]
(The Summary, Oct. 19, 1912, p. 8)
Though Dorgan's [Goldberg's?] "I'm the guy who put the pep in pepper" may have been the pioneer of the "X in AXB" form c. 1910, the formula spread like wildfire beginning in the summer of 1912. Here are some of the examples I've found from that year:
An exchange in referring to a noted introduction made during the Democratic National convention at Baltimore quotes it thusly: "I take great pleasure in introducing Mayor Fitzgerald, of the Hub — the guy who put the Boss in Boston." ("Retort and Comment," Daily Independent, Monessen, Pa., June 28, 1912, p. 4)
Sam Finkelman, better known to his cronies as "Battling" Shea, because real fighters are all "Irishers," essayed another feat of swimming yesterday. Sam is the guy who put the "swim" in swimming. ("Sam, He's A Towboat," New York Tribune, July 22, 1912, p. 5)
"Don't you know who that is?" returned her escort. "He's the guy who put the din in dinner." (Daily Gazette, Xenia, Ohio, Aug. 23, 1912, p. 4)
Hen Dill, engineer of the coal barge "Pickel," is dead set on finding the party who put the missis in the Mississippi. (Platts Power, Sep. 3, 1912, p. 347)
Larry Doyle is the anarchist who put the might in dynamite. ("Larry's Day of Labor," New York Times, Sep. 3, 1912, p. 8)
The weather man is the guy who put air in fair. (Indianapolis Star, Sep. 4, 1912, p. 8)
Post office patrons are looking for the guy who put ail in mail. (Indianapolis Star, Sep. 5, 1912, p. 8)
T.R. is the man who put the surge in "insurgent." (Chicago Daily Tribune, Sep. 9, 1912, p. 6)
Pseudo-humorists have strained their imaginations in the attempt to tributize those fanciful characters who "put salt in the ocean," the "moo" in the moose movement, and other pale inanities, and all the time they have allowed the man who put the pink in lemonade to go down, unrhapsodized, to the grave. ("He Put Pink in Lemonade," Washington Post, Oct. 6, 1912, p. E4)
We are informed that a man named Woodward is the person who put the stir in registers. (Electric Railway Journal, Oct. 10, 1912, p. 727)
Each party claims it was the other that put the boss in Boston. ("Editorial Points," Boston Daily Globe, Oct. 25, 1912, p. 12)
Coming straight to the point in the first paragraph, Alfred P. Edge introduces himself as the guy who put the leg, or the horn — maybe both — in the White Leghorn. (Advertising and Selling, Nov. 1912, p. 12)
I now know that Dixon's Eterno and Dixon's Endurance are the guys who put the pen in pencils. (Graphite, Nov. 1912, p. 3515)
The attendance this year broke all records, and is 30 per cent larger than that of last year, which proves, beyond all doubt, that Dr. Denny is the man "who put the crease in increase." (Phi Gamma Delta, Nov. 1912, p. 317)
Mr. D. Who put the pie in Pioneer? A. They won't tell. (Telephone Review, Nov. 1912, p. 298)
It is decidedly adventitious for Aleck Smart to ask who put the vent in ventilator. Why not interrogate us as to the identity of the individual who put the nick in our last nickel and made us walk home? (Platts Power, Nov. 5, 1912, p. 695)
The other day, down on Yale Field, Johnny Mack, the trainer, was chasing after the squad, yelling: "Fundamentals, boys, fundamentals: look out for your fundamentals," when one of the husky ones stopped running and said to Mack: "Say, John. I would give a whole lot to see the man who put the 'fun' in fundamentals." ("Football Notes," Boston Daily Globe, Nov. 7, 1912, p. 8)
Because, therefore, of the prompt and efficient action of the Southern gentleman, our justly celebrated Mayor appears, according to the Bull Moose paragrapher, to be "the guy who put the 'shun' in auction." (New York Tribune, Nov. 10, 1912, p. 2)
The directors of the Pennsylvania railroad have elected Mr. Rea president to succeed Mr. McCrea. You hear a good deal about the persons who put the this in that, but the Pennsy directors are the men who took the Mac out of McCrea. ("A Line-o'-Type or Two," Chicago Daily Tribune, Nov. 15, 1912, p. 6)
[Harvard crew coach Percy Haughton:] "Perhaps, the Yale men get too much training, and have to hunt to find who put the 'fun' in fundamentals; but don't forget two years ago, when everything pointed to a sweeping Harvard victory and Yale got a scoreless tie and a virtual victory." ("Harvard Club Celebrates Crew's Victory," Boston Daily Globe, Nov. 20, 1912, p. 8)
The Colonial asserts that the guy who put the can in canvass is H.R. Henry, its assistant manager in Elizabeth. (Insurance Press, Nov. 20, 1912, p. 12)
A new member of the House who will leap into promeince because of the prominence of the man he defeated is Stanly Bowdin of Ohio. He is the man who put the nick in "Nick" Longworth. ("The Man That Beat 'Nick' Longworth," Hartford Courant, Nov. 27, 1912, p. 18)
What we want is the man who put the organ in organize. (The Paper Maker's Journal, Dec. 1912, p. 21)
You could then consider Pickerill, in the language of the "funny men" in our newspapers, as the man who put the dent in a fortunate dental incident. Journal of the Allied Dental Societies, Dec. 1912, p. 408)
Louis Hess, the man who put the V in vests, devoted his evenings to writing letters home and studying Esperanto. (The Packages, Dec. 1912, p. 67)
E.T. Allen, of Portland, introduced as "the man who put the 'con' in conservation." (Proceedings of the Western Forestry Conference, Dec. 1912, p. 47)
With the completion of the recent tranquil champai– I mean campaign– the transformation of the steam roller into a moving van, and the evolution of the indisputable reality that I am the guy who put the Sag in Sagamore and the Aft in Taft, we must seriously consider the genesis of the administration thrust upon my academic capabilities through the kind auspices of Mr. Theodore Roosevelt; I thank Mr. Roosevelt profusely for my election. (Chicago Commerce, Dec. 6, 1912, p. 26)
As we understand the situation, it was the Servians who put the "stir" in Monastir. ("Pen Points," Los Angeles Times, Dec. 7, 1912, p. II6)
"Who Put the Con in Conversation?" (Boston Daily Globe, Dec. 13, 1912, p. 10)
Note that by October 6, according to the Washington Post, the formula had already descended into "pale inanities" from "pseudo-humorists." There were more creative examples in circulation, though. In early 1913, Allen S. Olmsted advertised an antiseptic powder called "Allen's Foot-Ease." Olmsted called himself "The Man who put the EEs in FEET":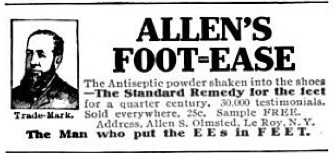 And here's a nice chiastic example from the Berkshire Eagle (by way of The Vocationist, Oct. 1913):

---