« previous post | next post »
The latest xkcd: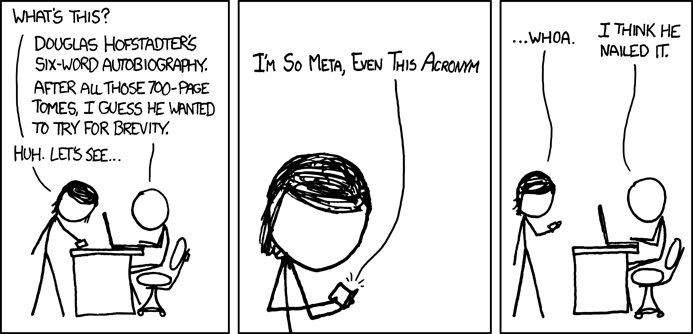 (As usual, click on the image for a larger version.)

For those unfamiliar with the meta-ness of Douglas Hofstadter, a good starting place would be his 1979 book Gödel, Escher, Bach — particularly the dialogue between Achilles and The Genie (pp. 103-126), wherein The Genie reveals that "GOD" is an acronym for "GOD Over Djinn." And then you could move on to Metamagical Themas, his collection of essays written for Scientific American in the early '80s — including "Lisp: Recursion and Generality" (Apr. 1983), in which he uses the programming language Lisp to explore not just recursive acronyms but mutually recursive acronyms. (See the Wikipedia page on recursive acronyms for many non-Hofstadterian examples.)
And to further appreciate the self-referentiality of the acronymic sentence (and the hover-over sentence), check out "Implicitly and Explicitly Self-Referential Sentences" in GEB (pp. 495ff) and his two-parter in MT, "On Self-Referential Sentences" (Jan. 1981) and "Self-Referential Sentences: A Follow-up" (Jan. 1982). (Many of the specimens created by Hofstadter and his contributors are collected here.) I have a feeling a large portion of xkcd readers share my nerdy love for these essays, which made a big impression on me as a wee lad.
I should mention, though, that all of these works by Hofstadter were written before meta became a popular adjective, defined by the OED as "designating or characterized by a consciously sophisticated, self-referential, and often self-parodying style, whereby something (as a situation, person, etc.) reflects or represents the very characteristics it alludes to or depicts." The earliest example given by the OED is from 1988, in a meta explanation of meta-ness appearing in The New Republic. William Safire wrote about it in a 2005 On Language column:
Rarely do any of us in the language dodge find it possible to salute a lexicographer who was prescient about a linguistic development a full generation in advance. In an article in The New Republic of Sept. 5, 1988, titled "Meta Musings," David Justice, then editor for pronunciation and etymology at Merriam-Webster, was quoted as saying, "Meta is currently the fashionable prefix." The writer, Noam Cohen, added: "He predicts that, like retro – whose use solely as a prefix is so, well, retro – meta could become independent from other words, as in, 'Wow, this sentence is so meta.' If so, you heard it from me first."
(For more on meta, particularly as used in the quip "Anything you can do, I can do meta," see here and here.)
---