« previous post | next post »
On my recent trip to Paris, I took time out Wednesday evening to go to the Louvre, which is open until 10 (that's 22h for those unambiguous Europeans) on Wednesdays. My eyes happened to encounter Un jeune homme présenté par Venus (?) aux sept Arts libéraux, which reminded me that one of these lovely young ladies would represent Grammar. Here they are, with Venus (whose question mark is in the Louvre label — that's not my editorial addition1); I've omitted to photograph the young man.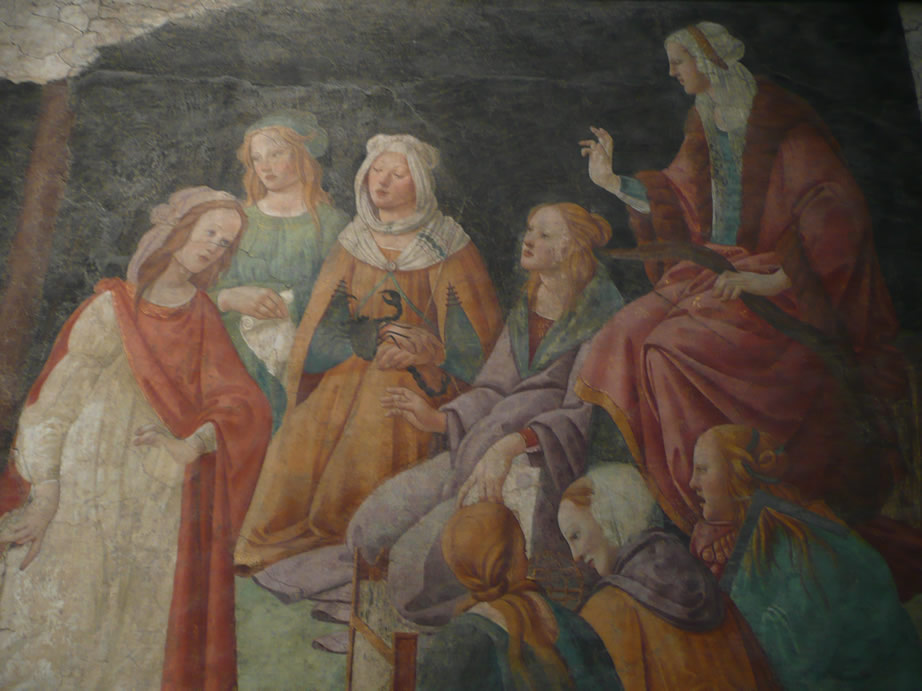 Since it's clear that the top middle one is Logic (aka Dialectic), with her scorpion, and since Logic is one of the three liberal arts in the Trivium, I assume that one of the women on either side of her is Grammar — let's say the lady to her left holding a scroll.2 Here she is in close-up (you can click on this or the above image for a bigger version):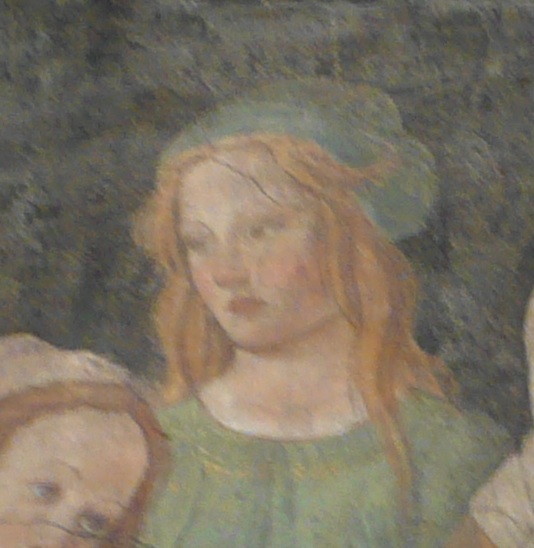 Quite a charming-looking person, perhaps a little shy and young, but not at all offensive, right?

Seeing this image spurred me to look around on the web for other photos of paintings and scuplures of the seven liberal arts, and specifically Grammar, just to see if they all were so appealing. I found a lot of nifty ones — it would make a fun, if specialized, coffee table book — but in particular enjoyed this website which I found linked to on Woodslot. There, I saw a whole range of sculptural depictions of Grammar, but none varied more than these two; check them out!
Grammar as a mother nursing her children: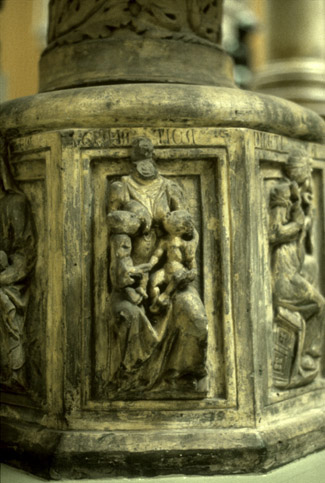 Grammar with what appears to be a whip with multiple tails, smiling slightly as she prepares to lash her tiny, trembling students: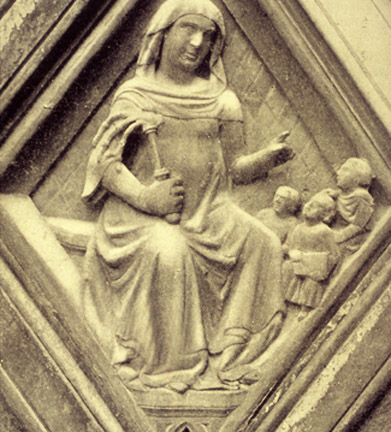 Which is grammar to you?
(In many of the sculptures and images Grammar is represented with a staff or stick of some kind, or maybe reed; in most but not all there are children around her or sometimes him. I've probably misinterpreted that whip thing.)
1 Actually, I wonder if the question mark indicates that they were wondering if the lady doing the introduction might be Philosophy, since she is commonly represented with the seven liberal arts in a kind of queen-of-sciences role.
2Now I read a little more about the iconography of the seven liberal arts, I see that the bow was also often associated with Logic/Dialectic, as well as the scorpion, which means that there might be two Logics in this picture. The bottom three I think are, from left to right, music (holding a harp), astronomy (holding an astrolabe), and geometry (holding a right angle). That means the remaining four are grammar, rhetoric, logic and arithmetic. Scorpions and bows are both associated with logic, and the other two are holding scrolls, so it's kind of hard without further research for me to tell who is who. I think I see some kinds of circles on the paper in the rightmost paper-holder's hand, which would suggest that that one is also geometry…call her arithmetic, then; then the bow and scorpion I'd imagine are rhetoric and logic, and grammar is left as the last paper-holder.
---