« previous post | next post »
This is a sign from Hong Kong: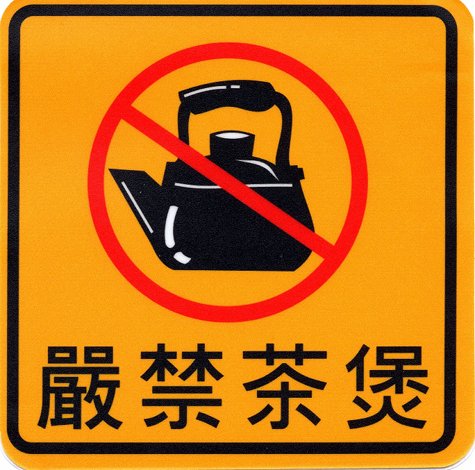 In Mandarin, the words at the bottom read:
Yánjìn chá bào 嚴禁茶煲
The literal translation of that would be "Forbidden / Prohibited Teapot."
This morning in my "Language, Script, and Society in China" course, I asked the members of the class to write down on a piece of paper what they thought the sign meant.  I should mention that about one-third of the class are native speakers of Chinese from various parts of China *other than Hong Kong and the province of Canton* (including a couple of post-docs and an ABD), while most of the rest of the class has five or more years training in Mandarin.  Here are the results of my "poll":
1. no tea kettles
2. no chit chatting
3. speaking is prohibited
4. (using this [whatever this hot pot is]) to boil tea is forbidden
5. We can't boil water or tea
6. Don't boil water tea.    ["water" is crossed out]
7. Boiling water is forbidden.
8. No teapots
9. Tea cattle strictly forbidden
10. Stop boiling water in kettles
11. No hot tea allowed
12. Brewing tea forbidden
13. tea is dangerous
14. Teapots are strictly forbidden
15. No boiling tea
16. Forbidden boiling tea
17. Teapots strictly prohibited
18. Please do not use / place electric tea kettles here!
19. It is prohibited to warm water for tea.
20. No tea pot
21. No Hot Tea!
22. No steaming tea
23. Please do not heat tea
24. BOILING WATER PROHIBITED TO PRESERVE TEA
25. Tea boiled is prohibited
26. DON'T KETTLE
Now, if you read the words in Cantonese, you get this:  jim4 [gam1 gam3 kam1] caa4 bou1
嚴         禁         茶   煲    The result is a perfectly intelligible expression to speakers of Hong Kong Cantonese:  "Trouble is strictly prohibited / forbidden," where caa4 bou1 is the transcription of English "trouble."  Having just returned from a week in Hong Kong, having spent long periods there in previous years, and about to go back again in a couple of weeks, I can vouch for the currency of this type of transcription of Cantonese, English, and other languages with Chinese characters in Hong Kong.  The Hong Kong Cantonese seem to revel in this kind of word play.
[A tip of the hat to Wicky Tse]
---