« previous post | next post »
When the White House issued a statement that finally condemned white supremacists for the violence in Charlottesville this weekend, the version that was originally released had an unusual typo: "nephew-nazi" for "neo-Nazi":
The president said very strongly in his statement yesterday that he condemns all forms of violence, bigotry, and hatred and of course that includes white supremacists, KKK, nephew-nazi and all extremist groups. He called for national unity and bringing all Americans together.
Brian Stelter noted the typo on CNN.

"Nephew-nazi" has, in fact, appeared as a typo for "neo-Nazi" online in the past. (Thanks to Sally J. on Twitter for pointing this out.) A few examples:
If you can call me a neo-Marxist, then it only seems fair that I call you a nephew-Nazi. (Amber Lisa, Medium, Dec. 13, 2016)
If they're talking about Richard Spencer, he actually is a nephew-nazi. He still didn't deserve to be punched, but he IS an actual, self-identified Neo-Nazi. (Mark Jennings, comment on "Chicks on the Right" blog post, Jan. 25, 2017)
Unless it is intentional for this President and his chief strategist, nephew-Nazi Steve Bannon, to rewrite our history!! (Susan Ashe, Facebook comment on "Women on 20s" post, May 12, 2017)
The second commenter, Mark Jennings, realized his error and subsequently wrote, "For the record, I meant neo-nazi, not nephew-nazi. Damn autocorrect…" This does seem to be an autocorrect miscorrection of the type we have been calling "cupertinos" since my 2006 post on "the Cupertino effect." My best guess is that it's the result of a fat-finger error rendering neo-nazi as nep-nazi (since o and p are close together on the keyboard), which then got changed to nephew by a spellchecker, since nephew is the most frequently occurring word beginning with nep-. I haven't been able to replicate this miscorrection on any program equipped with spellchecking/autocorrect, but perhaps Language Log readers can figure out exactly how this might have transpired.
Update: The nep theory seems the most likely, given autocomplete options like those below, though it's still a bit mind-boggling that the announcement could have been sent out to the news media with no one noticing this major error.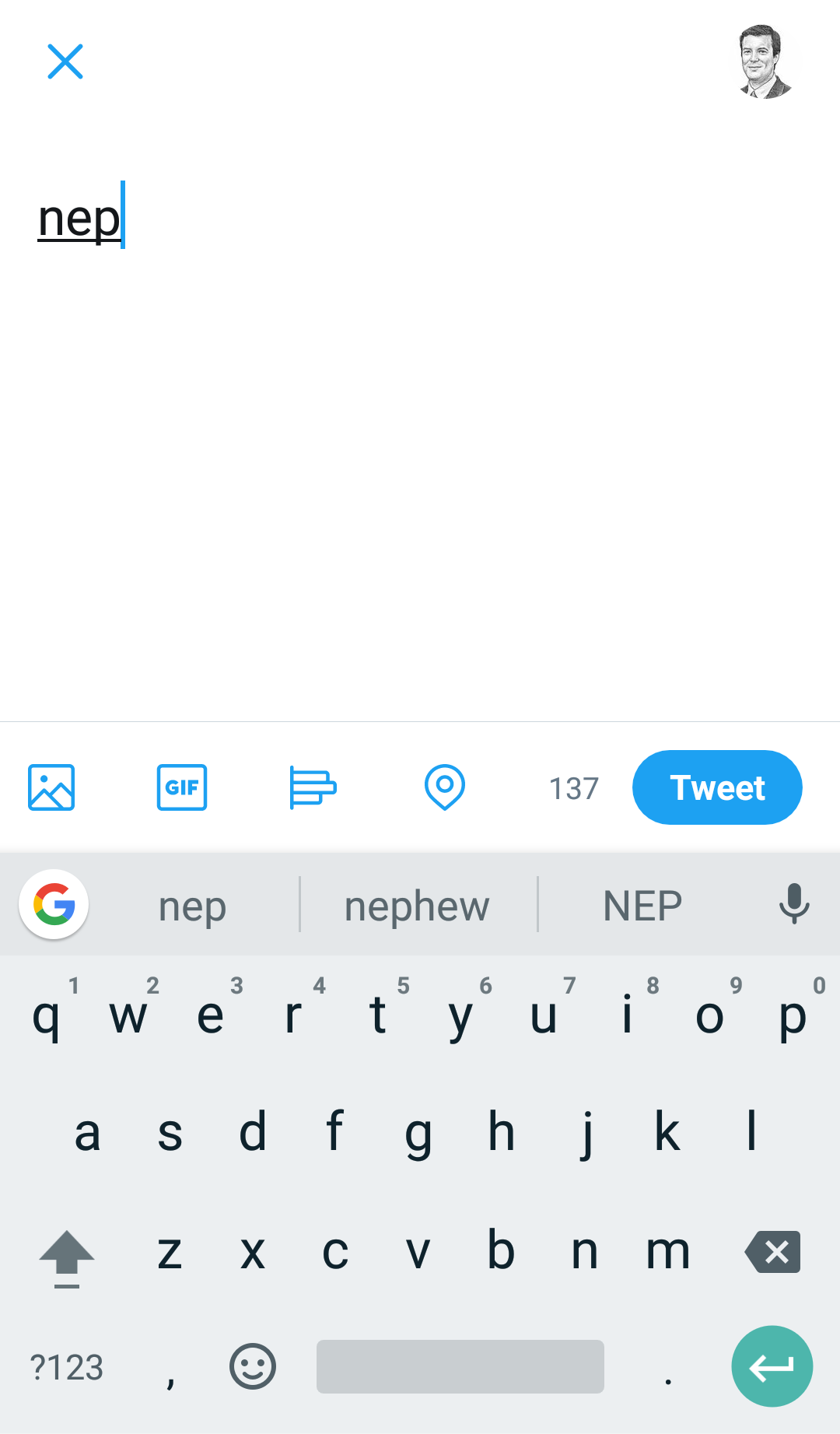 ---