« previous post | next post »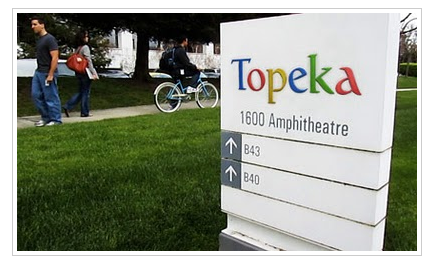 According to Eric Schmidt, "A different kind of company name", The Official Google Blog 4/01/2010:
Early last month the mayor of Topeka, Kansas stunned the world by announcing that his city was changing its name to Google. We've been wondering ever since how best to honor that moving gesture. Today we are pleased to announce that as of 1AM (Central Daylight Time) April 1st, Google has officially changed our name to Topeka.
Schmidt's post includes some instructions on the proper use of the company's new trademark:

I was pleased to see that the instructions were graded as to degree of violation, rather than being an all-or-nothing matter.
The new name is going to take some getting used to —

Although we hate to see that jaunty Google logo going unused on the internet, an early-morning board meeting at Language Log Plaza decided that it would be inappropriate to dilute our brand equity by picking it up:

---