« previous post | next post »
When I was teaching in Taiwan in 1970-72, there was a well-known brand of toothpaste called Hēirén yágāo 黑人牙膏 ("Darkie Tooth Paste").  Not only was the name strange, the packaging featured an image of what looked for all the world like Al Jolson in one of his blackface performances.  Naturally, I was scandalized by this, but when I asked my Taiwanese friends about it, they didn't see anything wrong with the name and said that it made sense from an advertising standpoint because the man had gleaming white teeth and the blackness of his skin made them seem all the brighter.
Many years later, when I went back to Taiwan after a long hiatus when I frequented the mainland and elsewhere, I was surprised to see that the English name of the toothpaste had been changed to Darlie.  Apparently, the change took place after Colgate-Palmolive acquired the brand from the original owner, Hawley & Hazel, in 1985. (Source)
The new English name sounds silly and doesn't really mean anything, yet the Chinese name remains Hēirén yágāo 黑人牙膏 ("Black Person Tooth Paste"), because ostensibly it is not considered offensive in East Asia.
The picture of the man in a top hat on the package that used to be clearly black has now become racially nondescript.
Here's an account of what happened from mothership, a Singapore publication, with photographs of the packaging at various stages in the evolution of the product:
"How Darkie became Darlie, and why it still keeps its Chinese name which basically means Darkie: One letter change", by Nyi Nyi Thet (December 16, 2016).
Some recent Darlie products other than their toothpaste dispense with the offensive Chinese name: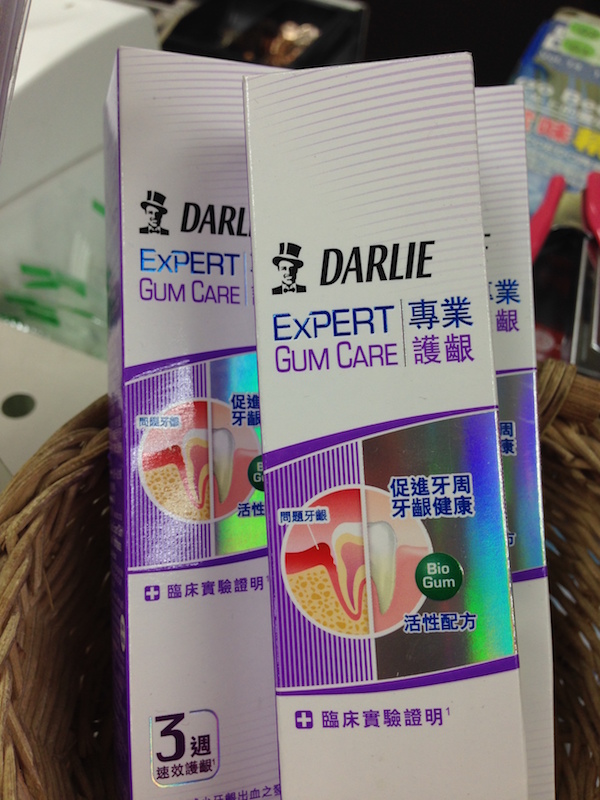 Courtesy of Paul Midler
But the Chinese name of the toothpaste remains the same:


Courtesy of Melvin Lee
And here's a television advertisement from last year:
Incidentally, there is also a Báirén yágāo 白人牙膏 ("Whitemen Toothpaste", sometimes "Whiteman Toothpaste").
If you look around on Google Images, you can also find a broad assortment of other Chinese toothpaste brands with bizarre names, such as:
Cteeth (in a package that clearly mimics that of Colgate toothpaste)
Cract, Crust, Crene (all three mimicking Crest toothpaste packaging)
Cleast (knock-off of Darlie)
Chinky (in a league by itself)
The Chinese toothpaste industry is full of energy, if not creativity.
[Thanks to Grace Wu and Tim Clifford]
---