« previous post | next post »
Spotted at CNN: "Federal employees breathe sign of relief on budget deal", 4/8/2011. The obligatory screenshot, in case they fix it: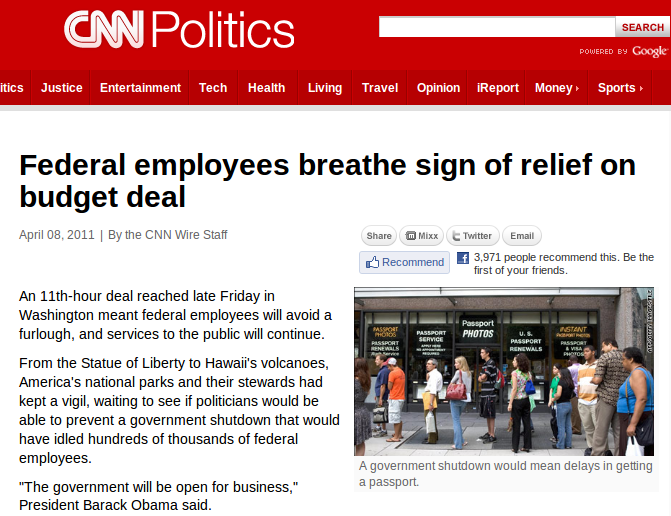 As discussed back in 2006 on the Eggcorn Forum, it's not clear whether this is an eggcorn or a slip of the fingers — or just a novel expression that happens to be one character away from a cliché.  The lapsus calami interpretation is plausible, since 'n' and 'h' are both touch-typed with the index finger of the right hand, and are also visually similar, making the result somewhat resistant to proofreading. At the same time, a "sigh of relief" is after all also a "sign of relief".
Whatever the cause, the substitution is a common one. Just in the current Google News index we find:
After all of the talk of a government shutdown everyone has breathed a sign of relief since just a few minutes before the deadline the shutdown was avoided.
Now that spring really is here, we can finally breathe a sign of relief that the spring market is matching the nice weather outdoors.
Still, his parents breathed a sign of relief — their long nightmare was finally over, or so they thought.
A tense Puttaparthy heaved a sign of relief 10 days after Satya Sai Baba was admitted at a super speciality hospital.
… and the entire, cruise-ship abandoned west coast lets out a sign of relief …
The financial year is coming to an end, and India Inc is breathing a sign of relief.
Afterward, Allison stepped back and breathed a sign of relief.
Israel and the world breathed a sign of relief when Egypt declared that it would honor its international commitments after the fall of Egyptian President Hosni Mubarak.
Inter Milan must have breathed a sign of relief when they UEFA quarterfinal draw paired them with what was, on paper, the weakest remaining side in the Champions League.
West Orange Firefighter and Local 28 President Angelo Tedesco expressed a sign of relief Monday morning as months of layoff and demotion negotiations ended.
Karla Henderson, a group executive who oversees planning, breathed a sign of relief after the vote.
Following the attack on Libya, Asian markets had heaved a sign of relief and Karachi bourse should have acted in concert..
Galvin, last seen correcting his flubbed release of incorrect census data earlier this week, can breathe a sign of relief in November, when, according to one Berkshire County lawmaker (Berk. Eagle), the redistricting process will be finished.
Mimaki users will breathe a sign of relief to hear that the Japanese company has reported no damage to their facilities in Japan.
Constant Alcorcon pressure for the remainder of the half, failed to find a way past a determined, well organised rearguard, who must have breathed a sign of relief when half time eventually arrived.
Volunteer fire departments in the state are breathing a sign of relief after the legislature voted to provide $5 million towards workers compensation.
Some of these examples are from Middle Eastern and Asian press outlets, but many are not. And it's not hard to find examples in prestigious publications. Thus A.G. Sulzberger, "New Yorkers Brace for Doorman Strike", New York Times 4/18/2010:
"The whole operation of the building would basically be shut down and we'd rely on residents to pitch in just to get by," said Dan Wurtzel, president of Cooper Square Realty, one of the largest residential management companies in the New York. "There's a tremendous amount of preparation we have to undertake. Then, if it doesn't happen, we can breathe a sign of relief. If it does happen, then we're prepared to deal with it."
That one involves the usual layers of attributional abduction —  either Mr. Wurtzel really said "breathe a sign of relief" and Mr. Sulzberger transcribed it accurately; or Mr. Wurztel said "breathe a sigh of relief" and Mr. Sulzberger heard and remembered  "… sign of relief"; or Mr. Wurztel said "… sigh of relief", and Mr. Sulzberger heard "… sigh of relief", but typed "… sign of relief".  On two out of three stories, there's a genuine eggcorn in somebody's lexicon.
There are plenty of examples in publications like the NYT that are not in quotations. Thus Geraldine Fabricant, "Health Care Overhaul May Help a Fund Sector", NYT 4/10/2010:
NOW that President Obama has finally gotten his sweeping health overhaul passed, mutual fund managers can breathe a sign of relief. Finally, there is some certainty about the changes, and most of them appear to be beneficial for health care stocks.
Nor is this a new thing. Consider this example from Latta Griswold, Deering at Princeton, Macmillan 1914: "Maclaren and Cummings breathed a sign of relief as they left Worthington Hall."
And then there are suggestive examples like this one, from Andrew Wagner, "Badgers' tournament run ends with a clunker",  OnMilwaukee.com 3/24/2011:
The Badgers did mount a late rally. Trailing 35-24 at halftime, they missed their first 10 shots of the second half and didn't score until Mike Bruesewitz hit a jumper with 14:03 to play, making it a 42-27 game.
Wisconsin head coach Bo Ryan threw his arms up in the air after that basket in a sign of relief.
"Well, you would, too," Ryan said, when asked about the gesture.
In that case, it's explicit that the "sign of relief" was not a sigh — but of course, a sigh can also be a sign.
We usually think of eggcorns as starting with the perceptual re-interpretation of an expression that is acoustically ambiguous, like "reign in" for "rein in" or "feeble position" for "fetal position". Is it possible that this one involves re-interpretation of a natural typing error?
[Tip of the hat to Theo Johnson-Freyd.]
---