« previous post | next post »
From my files (sorry that the photograph is not in perfect focus):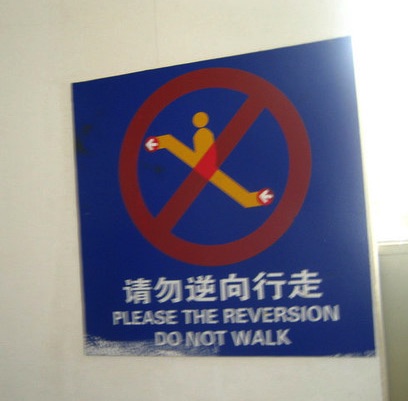 qǐng wù nìxiàng xíngzǒu 请勿逆向行走
("please don't walk in the opposite direction")
The Chinese on the sign is clear, but neither the English nor the illustration makes much sense.  The English, though ungrammatical and unidiomatic, is slightly more intelligible than the prohibition sign, which seems to be telling people that it's not all right to go in the direction of the escalator.
See also:
"Sandwiched in an escalator" (LL, 2/9/15)
"Mind your head" (LL, 8/28/15) (see esp. the 1st, 2nd, and 4th comments)
In China, where there are lots of accidents involving escalators, many of them fatal, such warnings are essential.
Last year was a particularly tragic one for escalators in China.
"After Three Grim Accidents in a Week, Is It Even Safe to Ride on a Chinese Escalator?" (Time, 8/3/15)
---