« previous post | next post »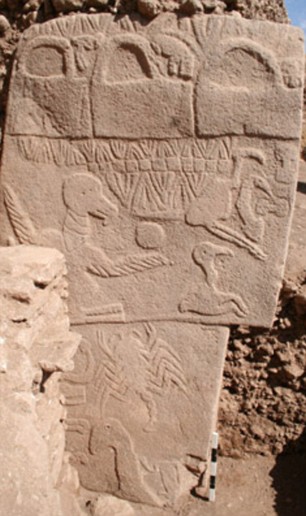 Martin Robinson, "Piles of ancient rubbish could prove incredible temple that's 6,500 years older than Stonehenge was actually a house", Daily Mail 10/19/2011:
It has long been considered the world's oldest temple and even thought by some to be the site of the Garden of Eden.
But a scientist has claimed that the Gobekli Tepe stones in Turkey, built in 9,000 BC and 6,500 years older than Stonehenge, could instead be a giant home 'built for men not gods'.
Ted Banning, a professor at the University of Toronto, has branded it 'one of the world's biggest garbage dumps,' with piles of animal bones, tools and charcoal found there proving that it was an ancient home rather than a religious site. […]
The incredible site was put up long before humans mastered language or skills like pottery or metal work, making it one of the true wonders of the world pre-dating any previously discovered religious site by 1,000 years. [emphasis added]
David Fried, who sent in the link, noted that
A photograph of a stele carved with ibises (I think), scorpions and other creatures is captioned:  "Remarkable: The intricate carvings were done by humans who had not mastered language or other basic skills."  It is so remarkable, even though it did not appear on the BBC site, that I thought you'd like to know.
What is with British science journalism anyway?  The stuff about Gobekli Tepe being the Garden of Eden is par for the course, but this?
My diagnosis is that Martin Robinson thinks (to use the word loosely) that "language" means "writing".
---