« previous post | next post »
From a section of the Singapore site "Stomp" called "Murder of the English Language" comes this mystifying entree name: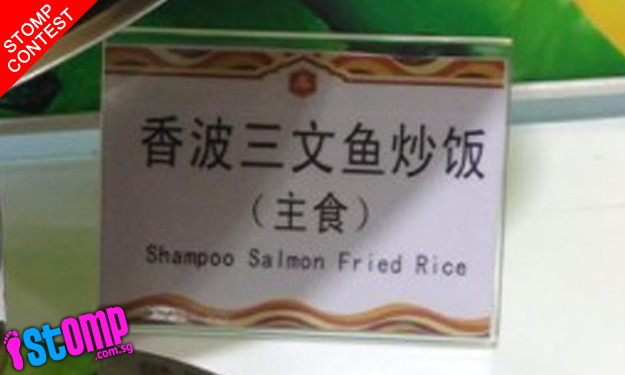 The name of the dish on the placard is xiāngbō sānwènyú chǎofàn 香波三文鱼炒饭.
There's no problem with the last two words (five characters), since they straightforwardly mean "salmon fried rice". Where we run into trouble is with the first word, the two characters of which literally mean "fragrant wave". Normally, however, when we encounter xiāngbō 香波, it means "shampoo" (a transcription of the English word; never mind that there are a number of other Chinese terms for shampoo as well), so it's understandable that a translator (especially a nonhuman one) might go astray when faced with it.
Since it is highly unlikely that xiāngbō 香波 means "shampoo" in this context, and "fragrant waves" doesn't work well either, we must look elsewhere for the significance of the term in relation to salmon fried rice.
According to this recipe, xiāngbō 香波 must be related to the pineapple (bōluó 菠萝), where xiāng 香 means "fragrant; tasty" and bō 波 is an abbreviation of bōluó 波萝, which is an orthographic variant of bōluó 菠萝, the usual way to write the most common Mandarin term for pineapple.
Meanwhile, there is another dish called xiāngbō gūlū ròu 香波咕噜肉 ("sweet and sour pork with savory pineapple"), and here too xiāngbō 香波 is related to pineapple. See also this description, and, for an introduction to gūlū ròu 咕噜肉 ("sweet and sour pork"), see this Wikipedia article. Consequently, we may be fairly confident that xiāngbō sānwènyú chǎofàn 香波三文鱼炒饭 means "fried rice with salmon and savory pineapple".
It might be worth noting that both bōluó 菠萝 / variant bōluó 波萝 ("pineapple") and sānwènyú 三文鱼 ("salmon") are borrowings into Chinese. The latter is fairly straightforward. Mark Liberman's 2008 post entitled "The Sichuan's hair blood is prosperous" touched on the transcription of "salmon" as sānwényú 三文鱼, except that there the Chinglish menu he was introducing and explicating translated it as "three text fish". At least enough progress has been made since then that translators now know sānwényú 三文鱼 means "salmon" and not "three text fish".
Incidentally, 三文 sounds much more like "salmon" when pronounced in Cantonese (saam1 man4) than in Mandarin (sānwén), which borrowed the term from Cantonese.
The reason that the Cantonese, and following them speakers of other Sinitic topolects, borrowed the word salmon is because this particular type of fish does not grow in China proper. One may sometimes hear Chinese refer to salmon as guīyú 鲑鱼, but — as we have seen in this post — fish terminology (especially across languages) is incredibly complicated and dependent upon time and place. Consequently, when Chinese want to refer to salmon from the West, they distinguish it as sānwényú 三文鱼 rather than as the more inclusive guīyú 鲑鱼.
In contrast, there is much controversy over the derivation of bōluó 菠萝 / variant bōluó 波萝 ("pineapple"), as may be seen in the wide variety of opinions expressed in this discussion group. The pineapple was one of many New World crops (peanut, maize, potato… [with high nutritional value from marginal land]) that came to China toward the end of the Ming Dynasty (1368-1644) and the beginning of the Qing Dynasty (1644-1912), and were one of the main reasons for the explosion of the population that began from that time.
Although I am not certain of the derivation of bōluó 菠萝 / bōluó 波萝 ("pineapple"), it is curious that this plant belongs to a family called Bromeliaceae and that an extract derived from the pineapple is called bromelain, both named after the Swedish medical doctor and botanist, Olof Bromelius (1639-1705), and that the Chinese term for bromelain is bōluó dànbáiméi 菠萝蛋白酶 (lit., "pineapple protease").
[Hat tip Toni Tan and thanks to Fangyi Cheng]
---